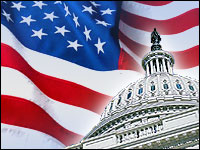 The impact of the U.S. government budget impasse on federal information technology operations is likely to be minimal if the duration of the shutdown is relatively short. However, as the suspension of federal agency operations enters its third week, federal IT vendors are finding themselves in an increasingly precarious position.
Even if the impasse is resolved in the next week, the whole issue of federal budget politics is still unnerving for the long term in the IT sector.
"A two-week shutdown will have minimal impact on IT operations," wrote Shawn McCarthy, research director at IDC Government Insights, in a blog posting when agencies shuttered their operations on Oct. 1. "A shutdown of a month or more could have a moderate impact, and some additional IT system shutdowns may be seen."
That could change, however, if the shutdown lingers, he noted.
'Most Departments Have Prepared'
"Most IT contractors will not see an urgent issue, since many receive monthly, quarterly or annual payments for the IT services they provide," McCarthy said.
"Most federal departments have prepared for this type of funding lapse by arranging for a significant reduction in operations," he explained. "Most agencies were required to create a draft plan to outline how they would prepare for a shutdown if appropriations were slowed or cut off.
"While we have not yet seen a broad reduction in IT operations, government staffers who maintain nonessential systems often will not be present to keep the systems running," he added. "In some cases, systems remain operational, but they will be shut down if problems are detected."
Examples of government activities that could be reduced or completely suspended during a shutdown, according to McCarthy, include most research activities; assistance and support to recipients of grant funding; and services and activities related to analysis or new development projects, including IT initiatives.
Procurement Delays Possible
After the shutdown had been in effect for more than a week, the E-Commerce Times checked back with McCarthy on the effect of the budget impasse on IT procurement. In some cases, he noted, the full or partial suspension of government operations could have an impact on the implementation of federal agency requests for proposals that had already been issued.
"If the staffers who deal with these RFPs have been declared nonessential and placed on furlough, then yes, the follow-up paperwork related to the RFPs will be delayed," McCarthy told the E-Commerce Times.
In terms of generating new contracts for IT products and services, the shutdown could delay the issuance of RFPs for projects on the drawing board for fiscal 2014. However, "it is likely that agencies can catch up if they have not fallen too far behind," he noted. "If the partial shutdown lasts more than six weeks, this will become a bigger issue.
"It's fair to say that procurement will be impacted more than contracts that are already in place," McCarthy concluded. "In most cases, those contracts will not be an issue unless a payment is eventually missed."
Contractors May Already Feel Pinch
Elizabeth Ferrell, a partner at law firm McKenna Long & Aldridge and a specialist in federal contracting issues, is less sanguine about the effect of the impasse even after just 12 days.
"The shutdown is definitely having an adverse impact on information technology contractors," Ferrell told the E-Commerce Times. "First, agencies are precluded from awarding new contracts or exercising options or placing new orders for IT services unless those activities are excepted from the shutdown.
"October marked the beginning of the fiscal year, and many contractors anticipated receiving contracts or orders in the first part of the month," she added. " Many of those contracts and orders are now on hold until the shutdown is over."
Agencies have also shut down nonessential IT projects, she pointed out, and "many contractors supporting those efforts have been unable to continue working. When contractors are unable to continue performance of their contracts, they face difficult choices about their idled personnel — will they be kept on the payroll or furloughed?"
Third, "in many instances, payments to contractors have been delayed because government personnel who are needed to approve and process invoices for payment are on furlough," Ferrell noted. "Because many information technology contractors are small businesses, the impact caused by the shutdown can be devastating."
Contractors should review and document the impact of the shutdown in order to maximize the financial cost recovery provisions of their federal contracts, she advised. Similar documentation should be developed in making scheduling adjustments in the fulfillment of federal contracts.
Debt Ceiling Complications
The shutdown resulted from the inability of Congress and the White House to either reach agreement on a budget for fiscal 2014 or maintain operations through adoption of a "continuing resolution" at funding levels in line with spending in fiscal 2013.
The situation became more complex when some members of Congress balked at enacting another key economic measure: the recurring law which increases the ability of the U.S. government to incur debt — or the "debt ceiling" bill. The ceiling is likely to be reached by Oct. 17.
Failure to raise the debt ceiling could also be harmful to business, Ferrell noted, because it could force the U.S. Treasury Department to prioritize federal outlays such that payment of interest on the federal debt would get top priority and payment of contractors could be seriously delayed.
While all government contractors will be relieved to see the shutdown end soon, the long-term cumulative impact is still serious. IT providers have been trying for years without much success to get the normal federal budget cycle more in line with the realities of commercial procurement practices.
Federal contractors find it hard to deal with the awkward federal budget cycle as it is. The situation becomes even more upsetting with the uncertainties associated with the politics of a shutdown. Even the extension of federal funding through a temporary "continuing resolution" doesn't address fundamental spending issues.
'Living on Uncertain Footing'
"The government shutdown may be short-lived, but its implications for contractors will likely persist long after the current budget dispute is resolved," Ferrell said in an advisory. "Contractors must act now to best position themselves to obtain full reimbursement of costs and contract extensions to address the impact of the shutdown, including, critically, documenting on a contract-by contract basis why certain actions were taken or not taken."
Meanwhile, "the constant cycle of continuing resolutions and constant brinkmanship with our government can't continue," said Shawn Osborne, president and CEO of TechAmerica. "Anyone who does any business with the government is constantly living on uncertain footing, completely preventing them from doing any long-term planning or investments,
"Congress and the president need to understand that even after they come to a deal, the hangover of a shutdown is long and painful," Osborne concluded.