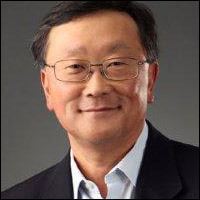 BlackBerry last week reported fourth-quarter revenue of US$660 million — well under analyst expectations, but enough to put the company back in the black.
Approximately 42 percent of that revenue came from hardware sales, about 47 percent from services, and about 10 percent from software.
BlackBerry declined to comment on which areas of the accounting sheets reassured its leadership and investors. Company officials "cannot ad lib any further" on the earnings report, spokesperson Lisette Kwong told the E-Commerce Times.
When There's Nothing Left to Cut
Stepping in as interim CEO of BlackBerry in the fall of 2013, Chen gave investors hope that the company's demise wasn't imminent.
Cost cutting and niche marketing have been hallmarks under Chen's watch, but the latest earnings report indicates no more than a delay of the inevitable, according to Roger Entner, founder and lead analyst of Recon Analytics.
"I will miss them when they're gone," he told the E-Commerce Times. "They have managed to slow their decline by drastically cutting costs, but you can't cut yourself to growth. The sad fact, remains: No matter how quickly they cut costs, their revenues are falling. A successful company grows revenues."
It's unclear if BlackBerry ever will be able to sustain meaningful profitability again, according to wireless analyst and consultant Jeff Kagan.
"I'd like to congratulate them on having a good quarter," he said.
Still, "I had been hoping that they would have snapped out of this over the last several years," Kagan added, "but they keep on disappointing."
When There's Nothing Left to Grip
BlackBerry's promise makes it disappointing to see the company, quarter after quarter, fail to take big steps in reclaiming it the position it once held, Kagan said.
Since the fourth quarter of 2011, BlackBerry's presence in the mobile OS market has shrunk dramatically — from holding onto an 8.1 percent share to clutching a 0.4 percent ledge.
"I think there's a place for additional operating systems — customers will want that," said Kagan. "However, [BlackBerry is] just not marketing it well or selling it well. I hope they can turn that around."
When There's Nothing Left to Sell
BlackBerry's fourth quarter saw the movement of about 1.3 million of its smartphones, down from the roughly 2 million it sold in the fourth quarter of the previous year.
Its square-shaped Passport, released in September of last year, bore the flag of the company's latest hardware strategy. The 4.5-inch phone was launched to appeal enterprise users — the same group that helped BlackBerry blossom into a mobile powerhouse until the second half of the last decade.
The Passport flew out of warehouses and spent little time on shelves shortly after launch. While it sold out quickly, BlackBerry had released just 200,000 of the handsets at launch. To put that into perspective, the latest iPhone sold about 10 million units in three days.
BlackBerry declined to provide details on the handsets it moved in its fourth quarter, but said that it intended to expand its distribution capabilities.
BlackBerry may never say never, but its time may be running out, nevertheless.
"They turned around part of the story," said Kagan, "but that's not enough."