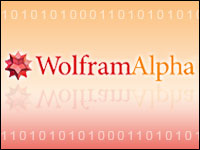 On Wednesday, Microsoft announced it's teaming up with answer engine Wolfram Alpha to beef up its Bing search engine.
This will give Bing users access to Wolfram Alpha's algorithms and curated data.
The team-up marks yet another step in Microsoft's battle with Google in the Web search market.
Double-Teaming Fat, the Flu and Math
By itself, Wolfram Alpha isn't designed to provide the same kind of information people generally look for when performing a search on a mainstream engine like Google, Yahoo or Bing. Instead of providing links pertaining to keywords, Wolfram answers questions by computing massive sets of structured data it's collected. By adding Wolfram Alpha's capabilities, Microsoft could blend in Wolfram's knack for hard-core data queries and calculations.
For example, "We will bring nutritional information and tools into Bing's search results, as well as some straight-up hard math and homework help," announced Tracey Yao and Pedro Silva in Bing's blog post on the partnership.
Bing is including Wolfram Alpha's body mass index interactive form on its results page so users can find out how their body mass ratio compares with the recommended levels. Also, Bing users searching for specific food items will see tabs and labels providing nutrition information about those items. For example, they'll be able to compare oranges and kiwi fruit to see which has more vitamins.
Users who want to learn more about math will be able to use Wolfram Alpha's ability to solve math functions.
Microsoft is rolling out these features now, Yao and Silva said. Microsoft declined comment when asked about future developments in Bing.
Searching for Market Mastery
Teaming up with Wolfram Alpha is Microsoft's latest move in its struggle to dethrone Google from its dominance of the search engine market.
In October, Microsoft announced a strategic deal with Twitter and Facebook to integrate real-time information into Bing searches. It has launched a Twitter search beta in Bing that can collect and sort tweets in various ways. Microsoft is also working on Facebook integration into the search engine.
In September, Microsoft announced a beta of a Visual Search feature for Bing. This feature groups images into structured results that Microsoft calls "galleries."
Not to be outdone, Google also announced it's adding a Twitter-in of its own the same day Redmond made its announcement.
Teaming up with Wolfram Alpha might provide Bing the boost Microsoft is looking for. "One of the issues with Bing is that, since it's from Microsoft, it isn't seen as trendy," Rob Enderle, principal analyst at the Enderle Group, told the E-Commerce Times. "Wolfram Alpha is cutting edge and significantly adds to the impression that Bing is something different and should be tried."
The whole point is to get people to try Bing, Enderle pointed out. "It doesn't matter if Bing is better, if people won't try it and stay with it," he explained. "If people believe it's worth trying Microsoft will gain market share."