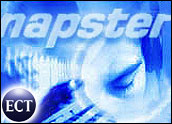 In an aggressive move to entice dial-up surfers to upgrade to broadband service, BellSouth announced a deal with Napster yesterday that the Baby Bell hopes Websters will find hard to refuse.
Under the agreement, new subscribers to BellSouth's FastAccess DSL service will get a free 256-megabyte digital music player (DMP) and a free three-month subscription to Napster To Go, Napster's subscription online music service, which ordinarily costs US$9.95 a month.
The flash-memory based DMP is designed to work with the Napster service, which gives its subscribers unlimited access to a library of more than 1.5 million songs — as long as the subscription is active.
The tracks can be downloaded and transferred to the DMP, but if the subscription lapses, the songs won't play. Tunes can be burned to CD at a cost of anywhere from 80 to 99 cents each.
Pricing Simplified
For BellSouth, the Napster deal comes on the heels of a series of pricing initiatives designed to convert some of the company's more than one million dial-up customers to broadband DSL services.
"Now that we've simplified the pricing, we are offering them the tools to enhance their high-speed experience," BellSouth spokesperson Nadine Randall told TechNewsWorld.
She explained that the company recently streamlined its broadband pricing structure from 21 service plans to three: a "lite" plan for $24.95 at 256 Kbps; an "ultra" plan for $32.95 at 1.5 Mbps; and "xtreme" for $49.95 at 3.0 Mbps.
End-to-End Music Solution
While Napster offers free three-month trial subscriptions to all new subscribers, BellSouth customers will be getting an "end to end" portable music solution, Napster Vice President for Business Development Andrea Devenow said.
Not only do the BellSouth customers get three free months of Napster To Go and a compatible music player, but they get peace of mind, she told TechNewsWorld. The promotion eliminates the confusion of what music players the Napster To Go service works with and it puts a free solution into the hands of the customers, she said.
"You see a lot of solutions of there where it's not clear what service works with what players," she continued, "and even if you know that, you have to do a firmware upgrade, which is a relatively sophisticated thing to do. This is plug-and-play out of the box."
She said that BellSouth will be flexing some marketing muscle behind the Napster offering in the coming weeks. "That fits squarely with our objective of getting more people to use the service, to get people hooked on the service," she added.
Converting the Converted
Doubts about the rationale behind the program, however, were raised in some corners of the broadband world.
Bruce Leichtman, president and principal analyst with the Leichtman Research Group in Durham, N.H., which specializes in research and consulting on the impact and adoption of broadband products and services, argued that BellSouth may be trying to convert the converted with the Napster offering. "Heavy digital music fans are already into broadband," he said.
"The strategy of adding value to a core offering of a broadband service — whether you're a DSL operator or a cable operator — makes sense," he observed. "But as far as getting people to upgrade for music, that core audience is already there."
While a free DMP and unlimited downloads will sound like a fantastic deal to some subscribers, the promotion needs to avoid a major pitfall, as Jarad Carleton, an IT industry analyst with Frost & Sullivan in Palo Alto, Calif., pointed out.
"As long as Bell South states up front that the songs are essentially being 'leased,' then it should be able to avoid problems," he told TechNewsWorld via e-mail. "If they hide that fact in the fine print, that is where the trouble will arise."