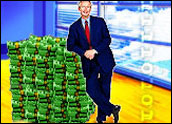 Google is planning to spend US$500 million or more promoting the Moto X smartphone, which is scheduled to launch this summer, The Wall Street Journal reported, sparking speculation that a new round of mobile marketing wars is about to begin.
One reason for the intensified focus on advertising could be the narrowing differentiation among high-end smartphone features.
Still, $500 million isn't really that much in smartphone marketing terms.
"Motorola is competing in the Android market against Samsung, whose marketing budget is $10 billion," Carl Howe, a research vice president at the Yankee Group, told the E-Commerce Times.
What the Moto X Might Offer
The Moto X's specs, as spelled out in a tweet from @evleaks, show it's pretty much a second-tier device.
It will reportedly have a 4.7-inch 720p display; a 1.7 GHz dual-core Qualcomm Snapdragon Pro S4 processor, a 10 MP rear camera, a 2 MP front camera, 2 GB of RAM and 16 GB of storage. It's expected to support 802.11 ac and WiFi. The device will run pure Android 4.2.2.
However, the Google Nexus 4, which has been in the market for about eight months, has pretty much the same specs.
The Moto X is expected to be promoted as a flagship device — but newer flagship phones from other manufacturers have more capacity and 1080p screens. However, they are more expensive.
Do You Feel Me?
The Moto X will have an unprecedented number of sensors. Company CEO Dennis Woodside has said that it will know when it's in the user's hand or pocket, when the user wants to take a picture, when the user's in a moving car, and adjust itself accordingly.
This might indicate Google's real agenda.
It "has always felt that if it had a phone with a lot of sensors in it, it could better understand what people are doing in aggregate," suggested Maribel Lopez, principal analyst at Lopez Research.
"Google's talked about Google Now and Google Glass, and they need to figure out how devices are being used," Lopez told the E-Commerce Times. "If you can find out what users are doing, that's going to be gold."
These new sensors will let Google "collect types of data it couldn't before, and that could feed some interesting information to its cloud services," noted Michael Morgan, a senior analyst at ABI Research.
"Motorola's bypassing the spec race, figuring that's a race to an unprofitable device," the Yankee Group's Howe said. "Instead, it's using custom software and sensors to deliver new smartphone experiences that would be unique to the platform yet keep the parts cost down."
Making With the Marketing
Google is not known for its marketing expertise, and after a brief, feverish bout of success with the Razr, Motorola has not demonstrated any real marketing chops either, having refreshed the Razr line in a bid to revisit its earlier success only to be met with resounding indifference from the market.
"Both Google and Motorola have had hit-or-miss marketing efforts," Howe said. "However, it's important to remember that no one marketing organization always hits a home run."
However, "for $500 million, you can pay someone to get the message out properly," ABI's Morgan told the E-Commerce Times. "This could be Sergey Brin showing he's back in charge, first by purchasing Motorola, and now by ponying up the money to make the smartphone a big hit."
Google seems to have begun its marketing push already; company chairman Eric Schmidt has been photographed at the Sun Valley conference using what's believed to be a prototype Moto X smartphone, garnering a bit of free exposure for the device.