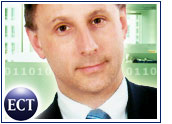 Have you gone shopping lately and had your check returned to you immediately at the point of purchase? Or are you one of the millions of Americans no longer getting physical checks returned, but instead receiving scanned images as mailed copies? If so, welcome to the digital age of banking — a faster and more efficient way to store, manage and view checks. Gone are the days when customers had to sift through a shoebox to review their canceled checks.
Last year, President George Bush signed the Check Clearing for the 21st Century Act, known as "Check 21," which has accelerated the move toward digital imaging of checks. The legislation enables banks to clear checks for payment using "substitute" checks, or digital copies of checks, in lieu of original paper checks. The law does not require banks to create these digital images, but it does require them to accept printed versions of those digital images.
Expected Uptake
The banking industry believes financial institutions will embrace digital checks quickly because image exchange — the exchange of images rather than original paper — is expected to cut the volume of paper in circulation dramatically, eventually reducing transportation and other check-processing costs. For example, some paper checks have to be flown across the country before clearing, costing banks billions of dollars annually.
More than 40 billion checks are written annually in the United States, and up to 20 people may physically handle a single check throughout its lifecycle. On average, banks store three copies of each check written, for an annual total of more than 150 billion copies. Additionally, banks historically have been required by law to keep detailed paper records of bank statements, including copies of original checks, but now the laws are changing so that banks can use digital documentation. The cost of labor and materials also runs into the millions, with some of the largest banks producing 35 million photocopies of checks per year.
Check imaging has taken off because of the huge customer-service lift it provides. As an added bonus, removing the paper from the check payment process enables banks to significantly reduce operational costs, creating a win-win situation for customers and banks. These new technologies have helped us at IBM transform our business and improve business processes for our clients, including many of the country's largest banks.
The move toward digital imaging is not likely to lose steam anytime soon. Viewpointe, a provider of digital check and document imaging, archiving and retrieval services in the United States, has nearly one-half of all U.S. checks stored in its digital archive systems. The company predicts the number of checks to be digitally archived will grow significantly, and that image retrievals will at least double in 2004 as banks expand their imaging capabilities and begin widespread image sharing and exchange.
How Does It All Work?
The truth is, banks are looking forward to the day when a scanned image of a check can be zapped to another bank, into the depository and then back to the customer's bank. As a first step, many banks already are allowing employees and customers to view digital images of checks online. As the number of online banking customers increases, so will the rate of replacement of original paper checks in monthly statements. The next step will be the proliferation of scanned imaging — which works by scanning a check's front and back, then making it available at Web-based ATMs or bank-teller stations. From there, a copy can be printed for customers upon request.
Two technologies behind digital archiving, imaging and exchange are content management and Web services. Content management is actually a set of technologies for creating, managing, integrating, Web-enabling and delivering digital content to employees, customers and, in our case, check writers. The technology allows users to access, retrieve and move all kinds of digital images. Web services, meanwhile, is a technology that allows disparate computers to communicate easily or simply — it is the plumbing behind online banking services.
Together, technologies like content management and Web services are making the digital evolution of banking real and immediate. However, the task of moving toward total digital banking is still a big one, even though the cost savings and increased efficiencies are quite evident. Digital archiving and digital technologies will reduce labor and mailing costs and will help improve service to banking customers. Look for it at a bank near you.
---
Jeff Schick
, Director of Content Management at IBM, has worked on the implementation of some of the largest digital archives in the world, including the Viewpointe Digital Archive, The New York Stock Exchange, The Depository Trust, JPMorganChase and PaineWebber. Schick oversees business development for IBM's Content Management initiatives, which incorporate the technologies of: portal, web content, document, image, digital media, collaboration, workflow, records management, rights management, search, archiving, database, storage, app servers and content repositories.
---