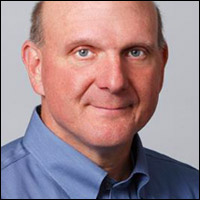 Former CEO Steve Ballmer on Wednesday called out Microsoft on finance reporting and its app strategy for Windows Phone, according to press reports.
CEO Satya Nadella this summer laid outhis vision for the company in an open letter to employees. It included a Windows 10 strategy founded on universal apps, software that could be scaled to Xbox One, Window Phones, tablets and desktops.
That's the wrong way to go, Ballmer asserted during Microsoft's annual shareholder's meeting.
Windows Phone needs to support Android apps, he insisted.
Nadella was responding to a question about the lack of popular apps on Windows Phone when Ballmer reportedly interjected.
The idea of universal apps won't work, and the correct approach is to support Android software, he maintained.
Ballmer, who holds the biggest Microsoft stake, also criticized the way the company reports finances relating to its cloud and hardware products.
Microsoft needs to start disclosing sales and margins for its cloud and hardware business, because those are key metrics, he argued.
It provides guidance on its cloud and hardware business with run rates, which essentially offer figures a company is on track to hit if everything goes as well, or better, as they have been going. Run rates are "bullsh*t," Ballmer reportedly said.
Be Together, Not the Same
Supporting Android apps would make perfect sense for Microsoft, said wireless analystJeff Kagan.
Directly supporting Apple and its apps also would make perfect sense, he told the E-Commerce Times. Taking it a step further, Microsoft could offer different devices that support one or the other.
"This is what BlackBerry is doing," Kagan said. "Sorry, Microsoft, you are not that much better than BlackBerry in mobile. This may sound crazy, but it's time to start sounding crazy if it will show some growth."
Support for Android apps technically would work as an extension of Microsoft's strategy to fast-track Android apps to Windows Phone, noted Rob Enderle, principal analyst at the Enderle Group.
Microsoft already banks big royalties from licensing its tech for Android, he told the E-Commerce Times. The company could rationalize "creating a full support layer" for Windows Phone inside Android, which already is fragmented.
"Typically — and Microsoft tried this years ago when they tried to interoperate with AOL's Instant Messenger product — there is a risk that Google would make changes breaking the related apps," Enderle said, "but Google was aggressively open source and doing this would break most of the derivative products as well, and given they are already under antitrust investigation, the result might be catastrophic for Google if it played out properly."
Making the Move
Played correctly, full-on support for Android could be "massively effective because it would be so unexpected," Enderle pointed out. It would be hard for Microsoft, however, given that the company is a tools and platforms vendor.
It's a "shame [Baller] didn't come up with this while he was running the company — but he didn't have an idea problem, he had an execution problem, and executed badly this could also kill Windows," he said.
Under Nadella's management, it could be incredibly successful, Enderle added.
"The irony is Ballmer would take this risk but couldn't execute it. Nadella could execute but won't take the risk, so this will likely represent a missed opportunity," he said.
That could mean the continuation of Microsoft's failed moves in the wireless market.
"I think after more than a decade of trying but getting their nose bloodied time and time again, Microsoft should consider this suggestion of supporting Android apps on the Windows Phone as a first step," said Kagan. "If Windows Phone was a hit and was a viable third option, we wouldn't even be thinking of this question."