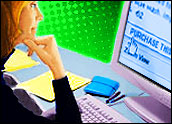 The top 10 fastest growing Web sites in August with back-to-school online advertising campaigns were announced Tuesday by Internet media and marketing research firm Nielsen//NetRatings.
Topping the list was eBags.com, which showed month-to-month growth of 118 percent, from a unique audience of 582,000 in July to 1.3 million in August.
"Bags are a huge area," NetRatings Senior Retail Analyst Heather Dougherty told the E-Commerce Times. "They span from first grade all the way up to college, so obviously bags are going to be a big interest."
Category Driven Sales
She reasoned that retailers with offerings in certain product categories — bags, apparel, office supplies and some electronics — do better than others during the back-to-school season.
"Online retail reflects the offline retail season," Sucharita Mulpuru, an analyst with Forrester Research, told the E-Commerce Times. "Back-to-school is usually very strong in certain categories — office supplies, general merchandise, sporting goods."
This can be seen in the Nielsen findings. Following eBags in the month-to-month growth rankings were:
OfficeMax with a 22 percent increase for the period, from a unique audience of 2.3 million to 2.8 million;
L.L. Bean, 16 percent increase, from 2.4 million to 2.8 million;
Staples, 12 percent increase, from 5.6 million to 6.3 million;
Office Depot, 12 percent increase, from 4 million to 4.5 million;
Kohl's, 10 percent increase, from 7.9 million to 8.6 million;
JCPenney, 9 percent increase, from 7.9 million to 8.6 million;
Amazon, 9 percent increase, from 37.6 million to 41 million;
Target, 8 percent increase, from 19.8 million to 21.4 million; and
Circuit City, 2 percent increase, from 8.4 million to 8.5 million.
Compared to past years, Dougherty maintained that online retailers placed more emphasis on being hip in their back-to-school marketing.
"One of the big trends has been to try to be a lot more stylish than in the past," she observed.
"Wal-Mart, for example, was playing around with social networking, building on MySpace, being a place where students and kids would want to hang out.
"Hopefully, that would have a trickle effect," she explained. "They'd be at the Wal-Mart and see things they would want or need for school and would influence their parents' spending decisions."
Uncool Apparel
Generally, she added, kids are becoming more educated as online shoppers. They actively share information over the Internet with their friends.
"The Internet is also a very good way, without ever leaving home, to show your mom and dad or whoever is buying you back-to-school things exactly what you want," Dougherty said.
"It can derail the threat of your mom going off and buying uncool clothes," she added.
Growing Importance
The back-to-school season has grown in importance for online retailers. "It's a big time for a lot of retailers," Dougherty noted.
"It's one of the leading times for shopping outside of holiday times," added Mulpuru, of Forrester.
The back-to-school period kicks off the robust holiday season for retailers, explained Patty Freeman Evans, a retail analyst with JupiterResearch.
"July, August and September are very important to retailers and have been increasingly important over the last 10 years," she told the E-Commerce Times.
This year, though, the season has been a mixed bag for merchants, she acknowledged.
"Half the retailers met their expectations and half didn't," she said. "But it seems to be a merchandising and marketing issue [more] than it is an overall trend issue this year."
Increased Advertising
Nielsen also reported that most of the top 10 destinations with back-to-school shopping campaigns saw an increase in image-based online advertising impressions during the July to August time frame.
An impression is the number of times an ad is displayed on a Web page.
JCPenney saw the most growth in the period — 1,226 percent, from 33.4 million to 443.2 million impressions.
Trailing Penney were Kohl's, with growth of 450 percent, from 14 million to 77 million impressions; Staples, 296 percent, from 16.3 million to 64.7 million; and Target, 119 percent, from 235.4 million to 514.5 million.