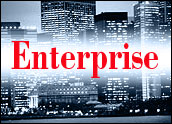 In early 2002, the founders of Azul Systems wagered that Java was going to become a prominent enterprise platform. If that happened, they suspected enterprise customers of Java would soon need relief from the pain points caused by poor scaling and disappointing deployment costs.
Azul Systems CEO and President Scott Sellers, along with two longtime business associates, concluded there was a potential market for an appliance to enhance Java's performance. Together they formed the basis for a new company that would draw heavily on their backgrounds in the graphics and silicon trades. Combined with experience in a company that sold cable modem appliances for major telephone firms, the founders were confident about their new company's chances for success.
Businesses were limited to using products based on legacy languages that had been around for 20 years. Then, Java took over fast and Sellers began recognizing the slide.
So they set out to sell their concept for an appliance to e-commerce, financial and telco customers. The fledgling company's founders sought a design for an appliance that would enable enterprise applications to perform better. It took several false starts before they succeeded with innovative technology that could deliver virtualized, highly scalable and simple-to-deploy infrastructures.
"We kept hearing complaints from Java users about it scaling out of control. It had too much complexity and needed too much power," Sellers told the E-Commerce Times. "We saw a better model was needed to better deploy Java."
The Plan
Azul designed its Compute Appliance to better deploy Java applications. They did it with lower power, a smaller form factor and fewer hardware components, explained Sellers.
The new appliance had to serve several purposes. One, it had to fix the under-utilization of existing Java servers. Two, it needed to reduce the number of application instances and improve the limited application scalability. The appliance they envisioned also had to improve the unacceptable response times and complexity of Java installations.
What they got for their efforts was an appliance that was capable of very high utilization that could share resources to accelerate Java applications. The appliance was simple to deploy and provided single VM (virtual machine) scalability to hundreds of central processing units with fast response times.
"In 2002, that was not a simple thing to accomplish. It was a huge effort that required lots of money. We were able to raise (US)$100 million," Sellers said.
Early Challenges
The vast base of clients in the larger server market already running Java posed a formidable challenge to Azul Systems. In addition to the server competition, Azul also faced an uphill struggle in overcoming two related problems.
One hurdle was convincing potential new clients that Azul had a better way. The second hurdle was convincing potential customers to trust such a young company, according to Sellers.
"It was tough to steal long-term accounts with other technologies," Sellers noted.
Competition Scarce
The concept behind the Java appliance might appear to be of the "Why didn't I think of that?" variety. However, executing the plan proved to be more difficult, at least based on the lack of other appliance vendors.
"We are the only game in town. This is a big market opportunity. We are one of the few companies with a unique and innovative solution in this enterprise space," Sellers said.
He wondered, why aren't there competitors? Other startups cannot do what Azul did any cheaper, he reasoned. It would take a sophisticated amount of research and development. That includes massive amounts of real money and real time. Another barrier is the need for a large knowledge base.
"It took us three years and $100 million. Other bigger companies would need five to seven years and about $700 million. I see only companies like Sun and IBM as being capable of doing this. But so far they have chosen not to do so," he said.
Bright Forecast
However, Azul Systems managed to traverse the barriers it faced as a young start up with different technology. The company has enjoyed three years straight of rising revenues, according to Sellers.
Azul expects to capitalize on its early entrance into the Java market. At this point, it has a solid lead ahead of newcomers.
"We play in a $10 billion segment. The Java market is growing at 20 to 30 percent per year," noted Sellers.
As his company grows with smaller customers, other growth opportunities will develop, he predicted. Still, there are potential bumps in the road.
Defining Spaces
Azul Systems' Compute Appliance does not replace the server or virtualization. That is one factor that made its alternative technology a hard sell. Its customers still need servers. However, virtualization of those servers provides cost and hardware reduction benefits to a much higher order, Sellers said.
"We just make a lot fewer [servers] needed. The server is still used as the OS (operating system) environment of choice," he explained.
The customer continues to make decisions to stay with a favored OS. Azul works transparently with existing applications and server platforms.
"Our technology is fully virtualized. The applications still think they are running on the previous server OS. Our customers can use a combination of virtualization and the Compute Appliance," Sellers said.
Meeting Market Needs
Azul Systems' founders say they owe a good portion of their current success to the ways their different technologies integrate with the Java platform. The approach Azul takes may offer its customers an unexpected benefit.
"Companies such as Azul emphasize the need for effective performance and availability critical to e-commerce, where seconds count and significant business can be lost from even minimal performance issues," Scott Crawford, research director for Enterprise Management Associates, told the E-Commerce Times. He manages EMA's security and risk management practice.
Using an appliance like the one Azul systems developed can prove to be both useful and necessary. Such appliances can help e-commerce vendors achieve higher performance results, increased competitive advantage and improved business value.
"Since appliances provide a well-defined computing environment, they can be tuned for the particular application in question and thus can achieve higher performance than general-purpose servers. The tuning can be in both hardware as well as software, giving the appliance a much higher price-performance ratio than is otherwise possible," Ken Schwartzreich, CEO of P2 Security, told the E-Commerce Times. "In addition, the higher performance achieved from an appliance can be orders of magnitude above traditional servers, thus reducing long-term data center costs as well as management costs."