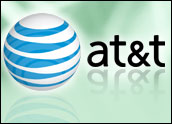 Did AT&T just get chink in its armor? Something curious and interesting may be happening at the phone giant. Its growth seems to be slowing, according to the latest quarterly results. I watched Verizon for something similar that would show a trend in the industry, but its growth still looks strong.
So what's the problem? Historically both companies seemed to ride the same Wave. So either Verizon will soon start to slow as well, or this is an AT&T problem.
My Pick of the Week is an upcoming Wireless Technology Forum general meeting in Atlanta focusing on Wireless Healthcare & Medical Services.
Extreme Makeover
Both AT&T and Verizon are in the same business. They have changed and grown on a similar track over the last few decades. However, they do approach the marketplace differently, and that difference may be starting to show up in the numbers.
They have both been on the growth side of the Wave that I have talked about. However, AT&T appears to be reaching the top of its Wave, while Verizon is still climbing. What happens next depends on what AT&T does next.
First, it is important to understand what makes AT&T tick. Let's pull the camera back and take a refresher course. It is not the company many think it is.
AT&T has been with us for well over a century. In the early 1980s, it was forced to break up. It became the long distance giant and was competing with MCI and Sprint. Then, in the late 1990s, it started competing against the Baby Bells and lost. It shrank, and was just a very small player by the early 2000s.
Gasping for breath, and on its hands and knees, AT&T was acquired about seven years ago by the smallest Baby Bell, San Antonio, Texas-based SBC, then run by CEO Ed Whitacre. Around the same time, SBC also acquired BellSouth and Cingular.
This instantly transformed SBC from the smallest phone company to a giant. Then Whitacre retired, and Randall Stephenson took the reins as CEO and transformed everything else about the new company.
He moved it to Dallas and changed the positioning and attitude of the entire organization virtually overnight. The new company looked very different.
So AT&T is actually a supersized SBC with a new king-sized attitude. SBC used to be a smaller and very active — yet warm and open — company, focusing more on the employee and the customer.
The company is now different, and its focus is on the investor. Now it is colder — a stranger to the workers, customers and the marketplace — and the difference is noticeable.
Ralph de la Vega, who came from BellSouth, runs the wireless operation. He may eventually become CEO of the entire organization.
Stephenson and de la Vega are trying to run a suddenly huge company. Typically, a company grows to this magnitude over time, but this was a sudden transformation.
This is an incredible challenge and opportunity, but keeping all the balls in the air can be quite difficult.
Employees and Customers First
As I travel, speak and attend meetings, I run into AT&T executives, workers and customers on a regular basis. The employees come from a variety of companies that are now AT&T. While the company is still growing, there is a problem that I've noticed and written about several times.
The question is will this problem continue to grow? So much depends on whether AT&T recognizes and fixes it. Unfortunately, there is no sign of that yet.
Perhaps that will change. This quarterly report may be just a nudge in the wrong direction, but it should feel like a sledgehammer to them if they recognize the warning signal. These are icebergs in the water, and it was hidden icebergs that brought down the Titanic.
AT&T today is a very large and very complex organization compared with seven years ago. A company this large and complex is difficult to successfully manage and grow — especially when yesterday you were one of the smaller and more nimble players.
It has done a great job with growth so far, but it now may be stretching past its comfort zone.
Companies should focus on the employee and the customer first. Keep them happy and the company will be strong and growing. Then the investor will also be happy.
When a company focuses on the investor first, it cuts out the worker and the customer — and that is a long-term recipe for trouble. I have heard some pretty disturbing stories on this front from AT&T workers and customers.
I would say this is a very important problem that AT&T needs to successfully address, and quickly.
The Wave tends to rise, then fall. AT&T has successfully reinvented itself and created a new Wave. Remember, the local phone business was growing in the 1990s, and then it slowed with competition.
AT&T changed its focus, acquired other companies, and started to focus on the next Wave, which was building wireless and television. It has been successful with this so far.
Can it succeed again again? Yes, but rather than seeing the problem, it seems to be blaming the slowdown on the market.
If that is the case, why isn't Verizon having the same problem? Perhaps it will over the next quarter — who knows, at this point? However, it is still growing strong, so this seems to be an AT&T problem.
I have worked off and on with AT&T over the last few decades. I have gotten to know many executives. I hope the company continues to do well for the sake of everyone involved, including workers, customers and investors.
I guess every once in a while, we all need a wake-up slap to realize we are on the wrong path.
So AT&T, with respect, SLAP!

My Pick of the Week is an upcoming Wireless Technology Forum meeting on Wireless Healthcare & Medical Services.
You know how exciting this new world is becoming and how this has been a key interest of mine, so I want to let you know about it.
The meeting will focus on some of the new wireless networks, systems and devices that are becoming key elements of our healthcare system. Participants will discuss how wireless technology is reinventing the healthcare industry.
Remember, we are only in the very early innings of this new game. There are enormous opportunities ahead for both individuals and companies.
This panel will discuss some key ideas in the wireless medical solution space. I think this will grow into one of the hottest segments of the wireless and healthcare world.
Speakers will be Matt Grubis, the CE of communications and information at GE Healthcare; Praveen Chopra, the CIO of Children's Healthcare of Atlanta; Rick Allen, the executive VP of Gwinnett Medical Center (north Atlanta); and Joel French, the VP of Motion Computers.
This event is sponsored by GE Healthcare. If you will be in the Atlanta area on September 15, you should stop by.
Let me know of new and interesting ideas you see developing in the wireless and healthcare field. This game is just getting started.