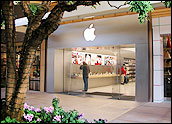 Apple's brand name is currently the most valuable name in the world. Google held that title for the last four years, and now Apple has finally surpassed Google as the most valuable brand. The top 10 are all very familiar names:1. Apple 2. Google 3. IBM 4. McDonald's 5. Microsoft 6. Coca-Cola 7. AT&T 8. Marlboro 9. China Mobile 10. GE So what's in a brand name, and what does it mean to Apple? "Apple" has now become a household word, not just in the U.S., but throughout the world as well. With that kind of success, Apple can do more business with more products globally. It also means that Apple is vulnerable to unscrupulous people and companies that may take advantage of Apple's valuable brand.
Counterfeit Apple Stores in China!
It has been said that imitation is the sincerest form of flattery. However, it is not always appreciated as such. A blogger visiting China recently discovered more than one counterfeit "Apple Store" selling Apple products. Employees of the "Apple Store" even believed they worked for Apple. Actually, the four real Apple outlets in Beijing and Shanghai are now the four most heavily trafficked Apple stores in the world. They also generate the most revenue, outselling even the Fifth Avenue Apple Store in Manhattan, open 24 hours a day.
Apple products are unbelievably popular in China. In the last quarter alone, Apple had revenue of US$3.8 billion in China, as reported by The New York Times. For the first three quarters of Apple's fiscal year, revenue in greater China was $8.8 billion — six times that of a year earlier.
Last quarter, Apple may have even generated more revenue in China than Lenovo — the Chinese PC maker that seven years ago acquired IBM's personal computer business, according to a survey by Bloomberg News.
Apple had no comment to make in a BBC article on the topic of the counterfeit "Apple Stores," and it is not clear exactly what Apple will do about this blatant trademark infringement. It is possible that it is more lucrative for Apple to take no action against the counterfeit stores because they could help business.
The real Subway sandwich chain finds counterfeit Chinese "Subway" not all that bad, since Subway is trying to establish awareness of a different type of food. So Apple could try to address the trademark infringement by some licensing agreement.
Even that might not be so easy. Within a week, Chinese officials shut down two counterfeit "Apple Stores" because they did not have business licenses.
Apple and Trademarks
As the most valuable brand in the world, Apple must be vigilant. Under U.S. and foreign trademark laws, it is Apple's duty to watch for infringers. The "Apple Store" counterfeiters use the logo, name, and look and feel of the real Apple Stores, including blue t-shirts with Apple logos worn by the employees in broad daylight in direct competition to real "Apple Stores" and, apparently, nobody at Apple realized it. It took a blogger who thought it was weird that the counterfeit "Apple Stores" used the title "Stores" while Apple's real stores are merely "Apple."
Apple's need to protect its store brand is not limited to bricks and mortar. In a recent case, Apple took action and moved the battle to virtual stores. On July 6, 2011, U.S. District Judge Phyllis Hamilton denied Apple's request to enjoin Amazon from using "App Store," ruling that it was unlikely there would be any confusion between customers of Apple and Amazon.com. Actually, temporary injunctions are rarely granted because the standard to obtain one is so high.
Apple needed to prove that it had suffered irreparable harm, that money damages would not suffice, and that it would ultimately win at trial. This meant that in order for Apple to prove "trademark infringement at the trial, it must show ownership of a legally protectable mark and a likelihood of confusion arising from Amazon's use. Amazon's defense was that "App Store" is a generic mark "because Apple's App Store is simply an online store where consumers can search for, choose, and download apps."
Judge Hamilton ruled that Apple did not establish a likelihood of success at trial and that among other things, Apple did not prove that "App Store" was famous and not descriptive.
In January 2011, Apple reported that 10 billion apps had been downloaded since Apple started the app business. However, the truly amazing statistic is that Apple announced six months later in July 2011 that another 5 billion apps had been downloaded, for a total of 15 billion apps. So how much impact will Judge Hamilton's ruling have in favor of Amazon?
Apple's 'iCloud' Name Belonged to Another
Steve Jobs predicted that Apple's free iCloud will allow users of iPad, iPhone, iPod touch, Macs, or PCs to store all of their music, video, photos and documents on the Web. But even Apple is not immune to claims of others that Apple is violating trademarks.
It turns out that iCloud Communications was already using the "iCloud" trademark as part of its business. iCloud Communications filed suit against Apple and the parties settled quickly. The result: Apple had to pay iCloud Communications for the right to use "iCloud." It was never clear whether Apple knew that iCloud Communications already was using "iCloud."
Apple's Trademark Future
While most companies need to be vigilant in obtaining and protecting their trademarks, this applies even more so to Apple, because it has the most valuable name in the world. Having a valuable name can mean a product is recognized and purchased because of the name it carries.
Dilution of the trademark — whether caused by inferior knock-offs, or related products, or even a whole counterfeit store — can adversely affect the long-erm value of the "Apple" name. Plus, there is a loss of revenue when consumers decide or are fooled into buying a counterfeit product.
How Apple handles the counterfeit "Apple Stores" situation in China may be instructive to other companies, since apparently Apple is not alone. Other company stores, like IKEA, are being copied too, although not quite as blatantly as Apple. No doubt many challenges lay ahead for Apple in protecting its valuable name.