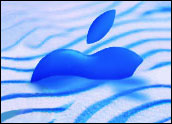 Apple grew from a small Microsoft competitor in the 1990s, to the tech giant of the 2000s. However, since Steve Jobs' passing a few short years ago, Apple has changed. At the same time, the industry has changed. Today, Google and Samsung offer strong competition. Apple now has to do something it never had to do before: market.
Let's roll the camera back for a minute. This sounds familiar — like the same problem BlackBerry started having when the iPhone was born. I warned BlackBerry of the coming disaster, but its leaders thought I was crazy. If only they had listened.
This is actually similar to the way Barnes & Noble and Borders gobbled up the small booksellers in the 1990s. Remember the movie, You've Got Mail with Tom Hanks and Meg Ryan? That played out this business story on the silver screen.
Today, however, Barnes & Noble is struggling, and Borders is closed. Today, Amazon is king of the booksellers.
That's the story of the wave. A wave always rises, crests, then falls. Always. Waves of change are often larger and longer than we think — but don't be fooled. They always have a life span.
Revving the Growth Engine
BlackBerry was different right? But think about it — how different was it? Its customers absolutely loved its devices and technology. The customer relationship was beyond words. Customers were BlackBerry addicts. Remember the Crackberry.com website for avid BB users?
All this was before the recent smartphone revolution. All this was before the first iPhone was even a twinkle in Steve Jobs' eye. Remember, this smartphone revolution is only a few short years old. That's it.
There were so many stories from so many different angles. BlackBerry was forever, we once thought. Yes, the addictive and seemingly unbreakable relationship that BlackBerry customers had was incredibly strong — and it stayed that way until everything suddenly changed.
So what's the difference between Apple and BlackBerry? Well, Apple users are fiercely loyal. They are addicted to the devices and technology. They can't wait to see the new devices and updates as soon as they come out.
Wait, that sounds just like BlackBerry — and that's my point.
Why did BlackBerry fail? Why did it lose vast numbers of customers? Why is it a shadow of its former self today?
Most importantly, what can Apple learn from BlackBerry? How can Apple avoid the BlackBerry pit? Coincidentally, they are both named after a fruit, and every fruit has a lifespan.
If I were having lunch with Apple CEO Tim Cook, I would simply tell him that he and all Apple execs must learn how to use marketing in order to see Apple continue to grow.
It's all about marketing. Period. It's actually more than ordinary or traditional marketing, though. You must get under the skin of the typical Apple user, investor, worker, competitor and partner — just the way you always did over the last 10 years.
However, during the last 10 years you never really had to worry about marketing, did you? Good things just seemed to happen. Good for you, Apple — but it's over. Get over it.
Now you have to change. You must quickly become an excellent marketer. Can you do this? It's not easy, but it's the crucial part of the puzzle.
Apple grew incredibly fast and large over a short period of time — basically, since the iPod, iPhone and iPad changed each space. That was under Steve Jobs' reign.
Under Tim Cook's reign, there have been no earthshaking new product launches. Apple has done nothing to transform another industry or segment.
It has not used marketing well to retain and grow its position. That's the problem.
GE or BlackBerry?
When Jack Welch took the helm as CEO of General Electric, he transformed the company. Any business GE could not lead as No. 1 or No. 2, it exited. Period.
That was just one of the things that created an incredibly strong company in GE going forward.
Apple does not have forever to jump-start its growth engine once again. The longer it waits, the closer it gets to the BlackBerry moment.
Apple still has plenty of time to repair and start to grow and change a new or different industry segment, just like the good old days.
The big question is, will it? And if so, when?
BlackBerry lost its way because it never had to worry about marketing. However, that was wrong. It did have to be concerned about it — the company's leaders just didn't know it yet.
Now Apple faces the same choice and challenge. Apple never really had to market before. It grew and was wildly successful without marketing. However, that was back in the growth days under Steve Jobs.
Now, under Tim Cook, Apple needs to restart its growth engine. It needs to focus on marketing — that means advertising, public relations, media relations, analyst relations and all the other customer touchpoints.
I have worked with and watched many different companies over the last 30 years. Some are still around, strong as ever and growing. However, most are gone. They either have been acquired or, sadly, disappeared over time.
I hope Apple not only survives, but can start another growth wave. It is still one of the strongest companies, and it still has time. It is in an innovative space and has customers who love it.
However, it doesn't have forever. It needs to adapt and change — like GE and IBM — and not deny and follow the wrong path of a BlackBerry or a Palm.
Don't laugh. Nobody thought they would implode either — yet they did.
It's time Apple had its GE moment. It's time Tim Cook had his Jack Welch moment. It's not too late — not yet, anyway.