After a glorious first week of sales following its introduction in April, sales have slid rapidly for the Apple Watch, according to data from Slice Intelligence.
Sales have plummeted to fewer than 20,000 units a day, down from an average of 200,000 a day during its launch week, when it sold 1.5 million units, reported Slice, which measures online purchasing activity through an app used by consumers.
"What we're seeing is a massive drop-off in Apple Watch sales pretty much after the first day that they were sold," said Slice Intelligence Vice President of Marketing Jaimee Minney.
"We saw the bulk of the watches were actually moved the first day they were available for preorder," she told the E-Commerce Times.
In general, sales of smartwatches haven't been as robust as some other wearable computing devices, Minney added. For example, more Fitbit devices than Apple watches were sold in May — 850,000 Fitbit devices compared to 777,000 Apple watches.
Availability Affecting Sales?
Those Fitbit sales could be skewed by seasonal factors.
"The early summer months tend to be more popular for fitness-tracking devices," Minney noted.
The lower-margin Sport version of the Apple Watch, which sells for US$349, represents nearly two-thirds (64 percent) of all sales so far, Slice found, while the most-expensive gold edition of the device, which sells for $10,000 or more, has sold only 2,000 units.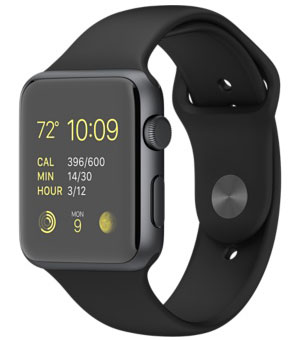 Apple Watch SportSpace Gray Aluminum CaseBlack Sport Band
Initial availability could be a big factor in the drastic sales drop-off since the watch was introduced, noted Patrick Moorhead, founder and principal analyst at Moor Insights & Strategy.
"When consumers are staring at a 60-day lead time for a product they can't pick up in the stores, they don't place the orders," he told the E-Commerce Times.
"I think as we near the holiday selling season, we will see a lot more promotion and a lot more sales," he added.
If Apple is disappointed with the sales of the watch, it's not sharing that with its suppliers.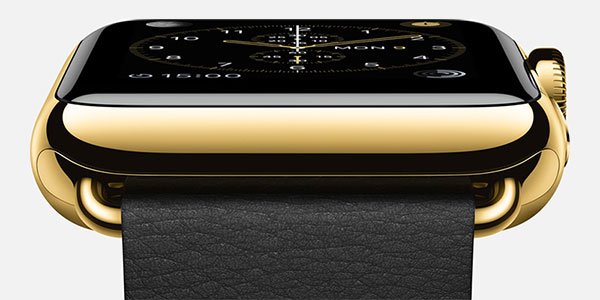 Apple Watch Edition
"We're aware of Apple's orders through the end of the year, and we're seeing no drop at all," said Tim Bajarin, president of Creative Strategies.
"Apple is usually very accurate in their supply chain management," he added.
Apple did not respond to our request to comment for this story.
Numbers Doubted
Slice's methodology for determining sales is questionable, according to Bajarin.
"It's highly inaccurate," he told the E-Commerce Times. "There's no way an organization can have that level of accuracy just from receipts."
Slice uses a Stanford-developed methodology that measures and catalogs all online purchases made by consumers who use its app to manage their online shopping.
"We have 2.5 million people who give us access to their receipts, and from there we project it to the U.S. online shopping population," Minney explained.
Slice isn't alone in throwing cold water on Apple Watch sales. Pacific Crest Securities analyst Andy Hargreaves shaved his sales estimates for the watch for fiscal 2015, which ends in September, to 10.5 million units from 11 million; and for fiscal 2016, to 21 million from 24 million.
General consumer interest in the watch, as measured by search volume, is below the iPod, he wrote in a research note on Apple.
Meanwhile, in May, UBS cut its shipment projection for the watch by 23 percent, to 31 million. Initial consumer interest in the watch was 20 percent of what it was for the iPhone when it was launched in 2007, it said in a research note.
Consequences of Failure
Apple Watch sales contribute only a small amount to the company's total value — about 4 percent by one estimate — but a poor showing by the product could have far-reaching consequences.
"If the Slice analysis is accurate — both in terms of a steep falloff in watch sales and the largest portion of sales focusing on the low end $349 model — it wouldn't be an outright disaster," said Charles King, principal analyst at Pund-IT.
That said, "it would be an embarrassing setback that might force Apple to rethink its wearables strategy," he told the E-Commerce Times.
"A failure could damage several of the high-ranking Apple execs who have invested a great deal of personal capital in the company's wearable strategy and in positioning Apple as a luxury brand," King added. "That could actually be more painful and damaging than any financial impact."
Still, if the Apple Watch stumbles, it could have a significant impact on the wearables industry in general.
"Just as the iPhone and iPad helped make the markets for smartphones and tablets, some vendors had hoped the Apple Watch could drive demand that would pull others along with it," King noted.
"If the world's foremost consumer electronics company can't make a market for smartwatches," he asked, "who can?"