Apple is almost never first to market in a product category, but when it does make its splash, it usually swamps all boats. That seems to be the case once again in the smartwatch space.
"Every other watch in the market is a beta version compared to what you're seeing coming from Apple," Michael Morgan, an independent mobile industry analyst, told the E-Commerce Times.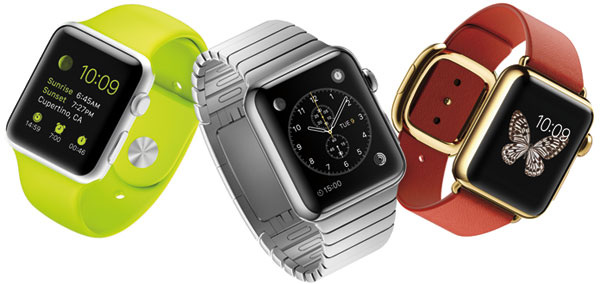 "If the watch does everything Apple says it will do, it will blow everyone else out of the water," said Patrick Moorhead, founder and principal analyst with Moor Insights and Strategy.
It was widely expected that the Apple Watch would be a tour de force in design — after all, that's what the company has built its brand on — but the final product still caught some analysts by surprise.
"None of us expected this to be a mind-blowing product," Trip Chowdhry, managing director for equity research at Global Equities Research, told the E-Commerce Times. "It is truly amazing."
As Apple has done in the past, it appears to have started with design and built the electronics to fit it.
"What they made first was a great watch and then they added the smart to it," Morgan explained. "If you look at everybody else, what you have is a smart device that acts like a watch."
Fashion Statement
That difference in design philosophy can be seen the minute a person straps on an Android watch and walks outside into the sunshine.
"Most of the watches, you can't see the time in daylight," Morgan said. "That's a pretty bad watch."
The Apple Watch's Retina display can be seen in sunlight.
Aesthetics has been a major sore point about the existing crop of smartwatches on the market.
"Existing Android watches are kludgy, half-baked and ugly," Chowdhry said.
That's not the case with the Apple Watch.
"It's not just for geeks. Pretty much anybody would find it a great fashion statement," 451 Research Vice President Carl Howe told the E-Commerce Times.
"Apple is appealing to a broader user," observed Carolina Milanesi, chief of research and head of U.S. business at Kantar Worldpanel ComTech.
"It's not about tech-savvy any more. It's about a normal user who loves beautiful things," she told the E-Commerce Times.
"Its fashion and design are such that even if wasn't smart, you'd wear it as a watch," added Morgan.
Small-Screen Savvy
Apple Watch is not only the first smart timepiece with outstanding good looks, but also the first to understand how to get the most out of the screen size limitations of a watch.
"People have been trying to pack as much information as they can on the screens of their smartwatches and making you do a bunch of swipes and clicks to get to where you want to be," Morgan explained.
"The fact is, the interaction time with your watch is maybe a second. Apple focused on that," he pointed out.
Existing smartwatches try to do everything a smartphone does, which is a mistake, maintained Milanesi.
"That's confusing to the user," she said. "The Apple Watch makes usability straightforward for consumers."
One way the company has sped up interaction with its watch is through contextual awareness. For example, groundbreaking Force Touch technology allows the watch's display to distinguish a tap from a press. It also can analyze messages and emails and suggest a canned response to them.
"Both the Force Touch feature to differentiate between 'tap' and 'press' and the Smart Replies feature to send automatic replies more easily add a more detailed level of contextual awareness to wearables, magnifying the convenience benefit over that of other smart watches," wrote Juniper Research analyst James Moar in a blog post.
In addition, a digital crown on the side of the watch can be used as a home button, scroll dial and selection button, depending on screen context.
Choice Galore
Apple typically limits customization in the first iterations of its products, but it's throwing out that page in the playbook for its smartwatch. It's offering two watch sizes, three choices of case materials (aluminum, stainless steel and 18-karat gold) and six wristbands — although that seems like a fertile area for third-party vendors.
To use the watch, a consumer will need an iPhone — specifically, an iPhone in the 5 or 6 series. Base price will be US$349, which is about $50 more than the pricier Android watches in the market.
Apple fans will have to wait until next year for the watch. That release window may have less to do with whether the product is ready for market than with sales timing. If both the watch and new iPhone 6 models were selling during the holiday season, some consumers would be forced to chose between buying one or the other.
"This might be about not cannibalizing any iPhone 6 opportunities," Morgan hypothesized. "A consumer can get the new iPhone at Christmas, and come tax return time, they can get the watch."