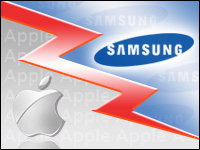 Jury selection began Monday in the latest lawsuit between Apple and Samsung, being heard before Judge Lucy Koh in a United States District Court in San Jose, Calif.
Apple is seeking about US$2 billion in damages from Samsung for infringing its patents on smartphone and tablet technology, while Samsung is countersuing for about $7 million for two patents it claims Apple has infringed.
However, the case has ramifications extending beyond the patent disputes.
It can be seen as the old guard — as represented by Apple — against the new, embodied in Google, whose Android operating system is used by Samsung.
Or, it could be seen as us versus them — us being Americans and them being Samsung — which is one on a long list of foreign companies whose technologies threaten U.S. businesses.
Or it could be seen as a money grab by Apple, although why the richest company in the world would want even more money might be difficult to explain.
The Heart of the Matter
Apple claims Samsung has breached its patents for data tapping, unified search, asynchronous data syncing and slide-to-unlock.
Samsung contends Apple has breached its Organizing Media and Remote Video Transmission patents.
The data-tapping feature brings up options users can invoke by tapping on them, such as when a phone number is displayed in a contact file on a smartphone.
Unified search lets users search from a single interface for information stored in various applications on a device.
Asynchronous data syncing allows the use of an app while it is syncing with other information.
Anyone who has used an Android tablet is familiar with the slide-to-unlock feature.
Samsung's Organizing Media feature lets users view and organize collections of photographs. Remote Video Transmission compresses video so it can be transmitted across low bandwidths when users make video calls.
Fighting Yesterday's War
"The big question for me is, is Apple late to the game in terms of pursuing litigation when Samsung for the most part has already moved on?" asked Jeff Orr, a senior practice director at ABI Research.
"Samsung is No. 1 in smartphones worldwide, they're No. 2 in tablets, and they're making a big splash in the hot mobile topic of the day — they've come out with the second generation of smartwatches," Orr told the E-Commerce Times. "And they've announced other products to round out that portfolio. Where's Apple?"
Companies should pursue their intellectual property rights, but "there comes a time when this becomes either a loss leader or a distraction to the company's core values — which include innovation, in the case of Apple," Orr said.
The patents at the heart of Apple's dispute are utility patents, meaning they offer functions that are necessary to operate a device but not essential to it, Orr remarked. "There are other ways to unlock a device than slide-to-unlock, for example."
Putting the Squeeze on Google
Some see Apple's lawsuit as an attack on Google, whose Android OS contains the features disputed by Apple.
"Google wants to break the economic model supporting both Apple and Microsoft," Rob Enderle, principal analyst at the Enderle Group, told the E-Commerce Times.
Or perhaps Apple just wants the money.
"This is not much different from Microsoft's having gone to Android handset vendors and requesting payment for its patents," ABI's Orr pointed out.
Samsung "generates a higher per-device revenue than what Google generates per copy of Android over time through mobile advertising," Florian Mueller, who writes the Fosspatents blog, told the E-Commerce Times.
Nationalism may play a role in the hearing.
Koh on Sunday overruled Samsung's objection to a video Apple wants to show the jury. The video has been criticized as being too pro-Apple.
"There are strong indications of U.S. juries being biased against foreign companies," Mueller said.