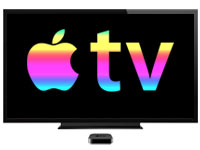 Apple has been mulling a move to commission original programming for its Apple TV, and some of Hollywood's top decision makers have been helping the company plan its strategy, Variety reported last week.
The Hollywood executives who tipped Variety didn't paint a cohesive picture of Apple's plans. Some described the conversations with the company as "flirtatious," while others claimed Apple wanted to set up content production divisions to crank out a steady flow of original programming for the Apple TV.
Roku and Netflix have dominated their respective sides of the market, hardware and software. Apple TV has been trading blows with Google's Chromecast and Amazon's Fire TV, but its content rivals would be YouTube and Prime Instant Video.
Original programming would allow Apple to compete on both fronts, while allowing it to rely less on its competitors' content distribution platforms. Exclusive content also would help the company differentiate Apple TV from the rest of the crowd of streaming devices and services, said Charles King, principal analyst for Pund-IT.
"Given the number of rumored false starts and stops around the [Apple TV], I suspect that might be the case," he told the E-Commerce Times. "If so, original content may be the only way Apple has to stand out from a mob of competitors."
Mob of Competitors
Apple CEO Tim Cook a year ago told PBS' Charlie Rose that TV hadn't evolved at the speed of life.Cagey as ever, Cook hinted that his company was brewing a new blend of TV. Having amassed more than 20 million users, it was time Apple started viewing cord-cutting and streaming as more than a hobby.
Television has been changing, and so has the fight for eyeballs, observed Andy Abramson, CEO of Comunicano. Along with disgruntled cord-cutters, Internet-native millenniums, many of whom are "cord-nevers," are driving the market for streaming media.
Apple's entrance into the content development arena could intensify the war currently waged mostly between Amazon and Netflix, he suggested.
This modern warfare may look a lot like past battles waged by established networks over rights to sports broadcasts, movies and first-run shows, Abramson said.
"For Apple, it puts them in a different class of content producer and distributor, further adding to the [over-the-top content] world that Netflix, Hulu and YipTv are all defining," he told the E-Commerce Times. "As for the Apple TV, it will give people one more reason to buy one."
Streaming Space Race
The Apple TV came in fourth, behind Amazon's Fire TV, Google's second-place Chromecast and Roku's pack-leading set-top devices, in Parks Associates' tally of streaming device sales in 2014. Amazon and Netflix have displayed some weaknesses, though.
Amazon has been focusing on disrupting the status quo in fashion similar to Apple's ecosystem- building strategy, according to Pund-IT's King, but in some cases, those bets have blown up in the company's face.
"Netflix has been a true disruptor, especially of conventional cable services, and has also done well with original programming," he pointed out, "which means the company will be squarely in Apple's crosshairs should rumors be true."
Despite displeasing cable companies with its popular original content and series revivals, Netflix can be overrun, said Ritch Blasi, president of MediaRitch.
Netflix doesn't "own the content, so while a wildly successful show like House of Cards is a big hit, Netflix could lose it to another streaming service," he told the E-Commerce Times. "Also,I believe their DVD sales are declining. "
Apple should set out a plan to develop its own content or partner with an organization that already does, Blasi suggested.
It certainly has the cash to do so, noted King.
"Given Apple's talent pool, competitive skills and cash hoard," he said, "that could place Netflix in a pretty uncomfortable position."