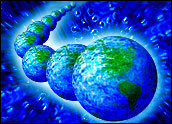 Apple has displaced Coca-Cola as the leading global brand in Interbrand's 14th annual Best Global Brands report, ending the soda maker's 13-year rule.
Google took second place, pushing Coke into third.
Overall, tech companies grabbed five of the top 10 slots.
"It surprised me because Apple doesn't have the distribution that Coke does, and we know Apple doesn't have the consumption that Coke does," Daniel M. Ladik, associate professor of marketing at Seton Hall University, told the E-Commerce Times.
However, "We may drink one or two Cokes a day, but we use our Gmail account or cellphone several times daily," pointed out Larry Chiagouris, a professor of marketing at Pace University.
"As a result, we develop a stronger relationship with our technology brands," Chiagouris continued. "I cannot recall ever sharing a personal piece of information with Coke, but I do it with Google every day."
Technology companies made a strong showing this year because technology is pervasive and because these firms focus on innovation, said Alfred DuPuy, managing director of Interbrand Canada.
Interbrand's Top 10 Players
Apple rose from last year's second-place position, with brand value increasing 28 percent to more than US$98 billion, Interbrand reported.
Google took the second slot with brand value increasing 34 percent to over $93 billion, up from 4th place last year.
Coca-Cola increased brand value 2 percent to more than $79 billion.
IBM came in 4th, Microsoft 5th, and Samsung claimed the 8th spot, kicking Intel to the 9th position.
"This is about faster growth from an Apple or a Google than it is about Coke declining," DuPuy pointed out.
The growth of established brands such as Coca-Cola and McDonald's "is more incremental, while Google's and Apple's growth is more dramatic," DuPuy told the E-Commerce Times.
Whys and Wherefores
Technology companies have gained strength because "they are more ubiquitous," Pace's Chiagouris told the E-Commerce Times. "They are not necessarily better."
That pervasiveness is partly due to the growing trend toward mobile device use.
"Desktops are disappearing, and we're seeing the rise of Internet use around the world because of smartphones, and this has been apparent only in the last two to three years," remarked Seton's Ladik. "In that period, people could get on Facebook or Twitter on smartphones where they used to need computers before."
With the trend being toward mobility and global reach, people "will start desiring what's in the trend — the things they do, such as Facebook and Twitter; and what they do them on," Ladik elaborated.
The Innovation Payoff
The opportunity to innovate that's before high-tech companies contributed to their strong showing this year, DuPuy said.
"They still have a lot they can innovate about, and they're taking the chances and taking a lot of risks, and we're allowing them to take risks, and we want them to take risks because we want to see what's next," DuPuy suggested.
On the other hand, Dell "was not willing to risk outside their comfort zone" and was content to do just enough and no more, commented DuPuy.
Good Management Counts
Proper brand management was another plus for the successful tech companies.
"Facebook is one of our best risers in this year's rankings because they are focused on what they can be doing for their brand and they're managing it very effectively," commented DuPuy. "They have a chief marketing officer, which they never had before, and this shows they're concentrating on these matters."
Other tech brands "that haven't been managing their brands well and are probably not focusing on things they have to focus on" have suffered, on the other hand, DuPuy observed.
Nokia was the biggest decliner this year, down 65 percent; Nintendo was down 14 percent; Dell was down 10 percent.
"These three — especially Nintendo and Dell — have been a bit slow compared to their competitors," , DuPuy said, "and Nokia has been sliding for some years."