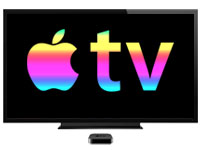 Apple and Comcast are discussing a streaming-TV service that will go through an Apple set-top box, The Wall Street Journal reported.
Apple apparently wants the service to be treated as a managed service, meaning it will run on cabling separate from that used for public Internet access.
"I seriously doubt Comcast will agree to a deal, Mukul Krishna, digital media senior global director at Frost & Sullivan, told the E-Commerce Times.
"Comcast already has existing deals with much cheaper set-top boxes. It offers home security, it offers a good TV experience, it offers phone service," he noted. "Why would they relinquish all that investment? It doesn't make business sense."
However, that doesn't mean an agreement won't see the light of day.
Comcast "is in the business of being an ISP, and that means having relationships both with end consumers for last-mile bandwidth as well as with the entities who are pushing the content onto that pipe — whether it's telecoms providers or content delivery networks or content providers," contended Sam Rosen, a practice director at ABI Research. "They're just providing the pipe."
What Cupertino May Be Seeking
Apple reportedly wants to let users stream live and on-demand TV programming and video recordings stored in the cloud.
"What Apple really wants to do is to leverage its iTunes business, going into the events business, which may not be as competitive with Comcast or streaming video 24×7," ABI's Rosen told the E-Commerce Times. "HBO has boxing; Apple TV might go for music events and that sort of thing."
Apple apparently is seeking a tie-in with Comcast because it wants to ensure the content is streamed to present the same quality as Comcast's TV transmissions to set-top boxes, without the hiccups or buffering that are seen when videos are streamed from the public Internet.
Apple will want pretty much the same deal with Comcast as it has with book publishers, the report suggests. That is, it will own the customer data and get a slice of revenue from sales or subscriptions. Customers would log into the service using Apple IDs.
Obstacles to an Accord
Comcast would have to invest heavily in network equipment and other back-office technology if the deal were to go through, according to the WSJ report.
Further, Comcast, which recently purchased Time Warner Cable for more than US$45 billion in what's seen as a move to increase its customer base, is not likely to want to hand over control of customers to anyone else.
"You can say Apple TV has got so many customers, but so what?" Frost's Krishna asked. "Comcast has lots more of its own."
Apple TV constitutes Cupertino's fastest-growing hardware business, registering 80 percent year-over- year growth. Sales passed the $1 billion mark in 2013.
The Crisis of Content
Yet another obstacle is the reluctance of movie studios to strike a deal with Apple. Cupertino has been wooing the studios at least since 2010 without success, and that may be due in part to Apple's wanting control over customers as well as a cut of the take.
"Revenue must be divided up between a whole lot of people — creators, owners, distributors, aggregators," Krishna remarked. "Content providers can be very belligerent about their share."
More avenues for accessing the content are appearing almost daily. In addition to Roku, there's Microsoft's Xbox which can double up as a set-top box, and "you can stream content to almost any gaming console," Krishna pointed out.
"Then there are the smart TVs of the world for which you don't even need to add a box, and you have Blu-ray players which are connected, on top of that," Krishna said. "And the Netflixes of the world are not only device-agnostic, they're creating unique content like House of Cards that's going over really well."