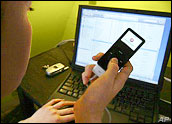 Apple for two years surreptitiously removed from iPods any music not purchased at its iTunes store, prosecutors charged Wednesday in federal court.
The accusations surfaced in the U. S. District Court for the Northern California, during the trial of a 10-year-old class-action lawsuit claiming Apple violated federal and state laws starting in 2006, when it issued iPod software updates that prevented the devices from playing songs not purchased on iTunes.
During synchronization with an iPod, iTunes software would generate an error message when it spotted music not purchased from Apple residing in the user's iTunes library, the plaintiffs' attorneys explained.
The message would instruct users to reset their iPod to its factory settings. During the reset, songs not purchased from iTunes would be erased, without the iPod owner's knowledge.
At the trial, Apple Security Director Augustin Farrugia said non-Apple music files were deleted from iPods for security reasons, The Wall Street Journal reported.
Toe the Line or Else
Apple gave users scant information about why they needed to do a factory reset because it didn't want to "give users too much information" and it "didn't want to confuse users," Farrugia told the court.
Removal of non-Apple files was a response to hackers' efforts to break into iTunes, he explained.
Apple's rationale for deleting files has been met with skepticism.
"You can't treat your users like idiots," Intego CEO Jeff Erwin told the E-Commerce Times.
"You give the user as much information as possible so they understand what the security issue is and what caused it," he said.
"There were far more diplomatic ways that Apple could have solved this problem, and they chose the most Draconian approach," Erwin added.
"It feels punitive to me," he continued, "which was Steven Jobs at the time. Apple under Jobs always had an undercurrent of 'toe the line or we'll make your life miserable.'"
Apple did not respond to our request to comment for this story.
Consumer Slam Dunk?
The security defense nevertheless could be a viable one for Apple, suggested Yasha Heidari, the managing partner at the Heidari Power Law Group.
"This won't be a black and white case," he told the E-Commerce Times.
"Apple wanted to have some DRM scheme in place to protect its system, which is fine. The question is whether or not it was trying to safeguard its intellectual property or just trying to prohibit competition," Heidari pointed out.
"My inclination is it's the latter," he added, "but we won't know until all the evidence has come out."
It's also possible that the security defense could backfire on Apple, since by its own admission, it withheld information from consumers when implementing its security measures.
"There may be a deceptive business practice or unfair business practice involved," said Shubha Ghosh, a business law professor at the University of Wisconsin.
"If consumers entered into the transaction thinking they could buy music anywhere and couldn't, that would be a violation of the Federal Trade Commission Act for an unfair business practice," he told the E-Commerce Times.
"That would be a pretty good — if not slam-dunk — cause of action for the consumers," Ghosh added.
Disdain for Laws
Consumers in the lawsuit are seeking US$350 million from Apple, but that number could triple if the company is found to have violated antitrust law.
Apple's tight bond between its iTunes store and the iPod made it difficult, if not almost impossible, to obtain music from other sources, explained Joseph P. Bauer, a law professor at Notre Dame University.
"Apple is going to have a difficult time arguing that that is not anticompetitive," he told the E-Commerce Times.
"Apple has been a bad actor on a number of antitrust fronts," Bauer said. "Steve Jobs, may he rest in peace, had a bit of disdain for the antitrust laws, and this may be another example of that."