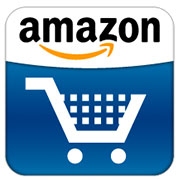 A picture may be worth a thousand words but the photo of what might be a smartphone in development by Amazon has produced many more words than that.
The photo, posted Tuesday by BGR, shows a black smartphone that looks like any number of mobiles on the market, save for the number of cameras on the front of the phone. In addition to the typical front-facing camera for selfies and video messaging, there are four other cameras.
The four additional cameras supposedly give the phone 3D capabilities that don't require special glasses and are beyond anything yet seen on a smartphone.
Other than 3D effects, the rumored specs about the phone are nothing to write home about. It will have a Qualcomm Snapdragon processor of as yet undetermined speed and 2 GBs of RAM. It will run a forked version of Android, as do Amazon's Kindle Fire tablets.
At 4.7 inches, the device's display is smaller than the flagship mobiles of other phone makers. The Samsung Galaxy S5 has a 5.1-inch display and the HTC One M8 has a 5-inch screen. The Amazon display's 720p HD resolution also pales compared to 1080p HD found in other phones.
It's rumored that Amazon's phone will have a respectable 13-megapixel rear-facing digital camera, however.
Amazon has been mum on all the reports about its smartphone. It declined our request to comment for this story.
3D Gimmickry
"3D on a phone is gimmicky," Gartner Vice President for Mobile Computing Ken Dulaney told the E-Commerce Times. "If they're selling on that feature — good luck."
While 3D on a smartphone has all the zest of boiled potatoes to some, others believe Amazon wouldn't embrace the technology unless it could bring new life to it.
"Amazon is a very smart company. They don't go in for gimmicks, in my experience," said independent mobile analyst Charles Golvin.
"If it's true that they're incorporating 3D into the device, I would be very surprised if it were just to view content in 3D," he told the E-Commerce Times.
"I don't think Amazon would believe that they could derive significant advantage from that — either in terms of selling their device in the first place or in the quality of the experience they'd be delivering," Golvin continued.
"If there were 3D in the device, it would reflect the fact that Amazon has come up with some creative element of the experience that they think makes it significantly better for smartphone use," he added.
Better Shopping
If 3D is incorporated into Amazon's smartphone, it likely will be aimed at sweetening the company's prime mission: selling goods to people.
"The thing Amazon does really well is commerce — is shopping," said Ramon T. Llamas, a senior research analyst for mobile devices technology and trends at IDC. "So the challenge is, how do you make shopping a unique experience with a phone?"
The answer to that question may be 3D. A 3D photo could be taken of a room, for example, and when shopping for a new TV or furniture for the room, 3D images of those items could be placed in the 3D photo of the room, giving a shopper a good idea of what the room would look like with a new TV or couch.
"It's hard to go shopping online most of the time when you can't touch or feel or sit on the product that you want to get," Llamas explained. "3D can help solve that problem."
If Amazon gets into the smartphone business, it could disrupt a market that primarily has been dominated by Samsung and Apple.
"We've long expected Amazon to get into the smartphone business," Llamas told the E-Commerce Times. "The question is, how will they disrupt it?"
One way they could disrupt the market is through pricing. For example, Amazon was willing to sell its tablet computers at cost or less and gamble on offsetting those costs with increased online merchandise sales.
"Amazon, as they have done with tablets, can use a similar model for the phone and get pretty disruptive," Bob Egan, CEO and founder of theSepharim Group, told the E-Commerce Times.
That disruption is likely to occur at the expense of the market leaders.
"The smartphone market in the United States is highly saturated," said analyst Golvin, "so the market now is all about taking away customers from competitors. To do that, Amazon will have to deliver a good quality product and have a powerful lure to get consumers to move from Apple or Samsung."