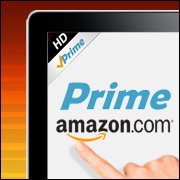 Amazon shares were trading at around US$606 mid-day Monday, holding strong following last week's profit surprise.
Amazon stunned Wall Street by releasing third-quarter earnings that blazed past consensus estimates on the strength of its growing cloud services business and an unexpectedly strong response to its efforts to boost membership in its Prime program.
Shares were up almost 7 percent to $601.72 in late trading Friday, after reaching as high as $619.94 for the day.
Net income was $79 million in the quarter, or 17 cents a share, compared with a net loss of $437 million, or 95 cents a share, in the year-ago quarter. Operating income rose to $406 million in the third quarter, compared with an operating loss of $544 million in the year-ago quarter.
Net sales rose 23 percent to $25.4 billion in the third quarter, up from $20.6 billion a year earlier.
Amazon's Prime membership program, which gives customers exclusive video, music and other content, as well as free two-day shipping for online orders, still has a lot of growth potential, the company said.
Prime Expansion
"So yes, we still think there are a lot of people in the country who are not Prime members," CFO Brian Olsavsky said. "We're anxious to have them try it and sign up and join."
The quarterly performance also was spurred by strong growth in the Amazon Web Services business, which provides a set of cloud-based services, including computer storage, database services and content delivery, to third-party businesses.
"Amazon is building its cloud platform off the technology and infrastructure they use to operate their core revenue-generating e-commerce business," said Colin Sebastian, senior analyst for the Internet and interactive entertainment atRobert W. Baird & Co. "This gives them a big advantage over traditional technology companies."
The company is moving well ahead of its main rivals in the cloud services business, he told the E-Commerce Times. "In addition, AWS was the early mover in the cloud services market, and they remain ahead of their competition — primarily Microsoft and Google — with respect to features and functionality."
Amazon is entering a number of growth businesses that are not close to fulfilling their potential, Sebastian said.
"E-commerce is still only 10 percent of retail — so lots of market share to gain by Amazon just continuing to grow into more product categories and as more users realize that it's often easier, more convenient and sometimes cheaper to buy anything they need online versus going to a store," he said.
New Markets
Amazon officials were very bullish on overseas expansion, particularly India, which the company sees as an important growth opportunity for the long term.
"We're really encouraged by what we see are seeing, both on the customer side and selling side," Amazon's Olsavsky said.
Active customer accounts were up 230 percent year over year, and sales were four times what they were last year in that market, he noted.
Amazon has been adding 40,000 products per day in that market, and the number of sellers is up 250 percent year over year, with 90 percent of sellers using Amazon's logistics and warehouse services, the company said.
Amazon is entering these businesses for the long haul, and the payoff is not going to be immediate.
"Amazon is firmly committed to the cloud and other initiatives, which have proven that there is a growing market opportunity," THINKstrategies Managing Editor Jeff Kaplan told the E-Commerce Times."Wall Street is going to have to be less myopic about the near-term investments required to capitalize on those opportunities."