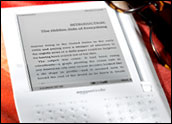 Amazon.com on Monday announced an e-textbook program for its line of e-reader devices: Kindle Textbook Rentals.
This will encompass tens of thousands of textbooks for the 2011 school year from leading publishers like John Wiley & Sons and Elsevier, the online retail giant said.
Students can rent books for between 30 and 60 days and will be able to extend rental periods.
The program will provide students savings of up to 80 percent of the textbooks' list prices, according to Amazon.
Students' margin notes and highlights will be stored in the Amazon's cloud and will be accessible if students decide to re-rent or purchase the books sometime after having completed the rental term.
The announcement comes nearly one year after Barnes & Noble announced its own textbook rental plan back in August of 2010.
However, it's not yet clear whether textbook rentals will take off in the United States. Apparently, publishers aren't all that keen on providing textbooks in electronic form.
"Both Barnes & Noble and Amazon are mostly on the same side, as the bigger problem they have right now is textbook content," said Rob Enderle, principal analyst at the Enderle Group.
Amazon.com and Barnes & Noble did not respond to requests for comment by press time.
Amazon's E-Textbook Rental Plan
The Amazon textbook rental plan is like any other lease plan — students pay for only the length of the time they rent the textbook.
Students can extend rental periods by one day or more, and can buy the books they are renting.
Amazon is extending its Whispersync synchronization technology so students' notes and highlighted content in the rented e-textbooks will be stored in the Amazon cloud.
That stored content will be available any time, even after a rental expires. It will be synced back to the textbook if the student re-rents or purchases the book later.
However, only a few books appear to be available for rental now.
A check of the medical and political science textbook sections didn't show any textbooks available for rent.
Other Players
Barnes & Noble offers textbook rentals at 60 percent off the list price, so on the face of it, it appears Amazon's offering a better bargain.
Meanwhile, a company called CourseSmart, which bills itself as the world's largest digital course materials supplier, offers its courses through iOS and Android apps. The company has signed deals with the University of Michigan and some other institutions of higher learning.
Whether Amazon's following Barnes & Noble into the e-textbook rental market will impact CourseSmart, and what the impact might be, are still topics for speculation.
However, it's possible that Apple and Android device manufacturers may soon crash into the e-textbook rental market as well.
"I expect the iPad and Android platforms will embrace this market as soon as there's enough available content for it to make sense," Enderle said. "It's a great way to capture future buyers while they're young."
Will E-Textbook Rentals Take Off?
Whether Amazon's latest foray into the e-textbook market works out will depend on a mix of factors.
"Many publishers like their e-textbooks to be laid out according to their specifications, and the current Kindle design doesn't do that well," Enderle said.
Further, textbook publishers "like selling textbooks and are really worried about piracy, so they aren't providing content for e-readers yet," Enderle added.
Then there's the buyer to consider.
"The open question is whether students really want to use e-textbooks," Carl Howe, director of anywhere consumer research at the Yankee Group, told the E-Commerce Times.
"These e-textbooks have some limitations and they don't have resale value," Howe pointed out.
On the other hand, more people are buying e-books than ever before, so the jury's still out on this question, Howe said.
His recommendation for textbook publishers worried about losing sales is that they create a hybrid format.
"They should sell the paper book at full price and give away the e-book for free," Howe suggested. "If they craft it as a bundle, they wouldn't lose anything."