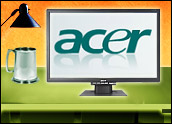 As global PC shipments rose 2.3 percent year over year in the third quarter, Taiwanese PC manufacturer Acer took the No. 2 spot in PC sales worldwide, according to market research firm IDC.
That pushed Dell into third place; market leader HP, however, maintains its commanding lead.
Looking at the Figures
HP accounted for 20.2 percent of PC shipments worldwide in the third quarter, with almost 15.8 million units. Acer, with about 11 million units shipped, took 14 percent of the market, and Dell shipped almost 10 million units to take 12.7 percent of the market.
Acer gained the most ground over the past year, racking up a growth of 25.6 percent year over year. HP racked up a growth of 9.3 percent year over year, while Dell's sales fell by 8.4 percent.
Lenovo took fourth place in third-quarter global PC sales with 8.9 percent of the market, and Toshiba has the fifth spot with 5.2 percent. That leaves a whopping 38.9 percent of sales in the hands of other vendors.
However, Lenovo appears to be a swiftly moving threat, chalking up growth of 18.2 percent year over year. Toshiba grew 6.9 percent year over year, while other vendors, taken as a whole, saw sales slip by 6.9 percent.
Look for Asian companies to gain further strength in the PC market, J.P. Gownder, a vice president at Forrester Research, told the E-Commerce Times. "Ten years ago, Dell used to be the masters of manufacturing and had a cost structure that let them compete more effectively than other companies," he explained.
"The dynamism has moved to companies closer to manufacturing locations, so companies like Asus that were original device manufacturers (ODMs) are now original equipment manufacturers (OEMs)," he continued. "Acer now enjoys cost advantages because it's based in Taiwan, close to the OEMs."
ODMs supply OEMs with parts, so Asus has effectively moved up the supply chain.
Acer, HP and Dell
IDC's figures include notebooks and netbooks, areas in which Dell is weak, said Bob O'Donnell, program vice president of clients and displays at IDC. The figures also include sales by all Acer's subsidiary companies.
"Acer owns Gateway and E-Machines, and Packard-Bell in Europe, and all their numbers are included," O'Donnell told the E-Commerce Times. "We know consumer notebooks are a big driver of sales, and mini-notebooks, or netbooks, are a part of that, and that's one of the main reasons Acer did well."
Although Acer has set its sights on HP next, O'Donnell does not think it can overtake the Palo Alto, Calif., computer powerhouse any time soon. "Acer beat HP in the mini-notebook category and claim they'll beat HP in the overall notebooks category, but I don't think they will," he said. "I think HP's well-positioned to remain strong."
Seizing the Chance
Acer's success is due to a combination of marketing savvy and mistakes by Dell, Forrester's Gownder said. "Acer has been innovative in the way it thinks about marketing," he explained. "They have done the intelligent thing like cobranding — think of the Acer Ferrari — and using other brand names as needed, as well as making the right acquisitions, helped their ascent."
Acer launched the Ferrari line of notebooks, which were co-branded with famed Italian sports car manufacturer Ferrari, in 2003.
The Taiwanese company bought Gateway, which owned E-Machines, in August of 2007, a move that Gownder predicted at the time would make it a serious threat to Dell. It also bought Packard-Bell in 2008 to prevent Asian rival Lenovo from doing so. Both moves gave Acer ready access to established sales and distribution channels and helped it compete in the low end of the market.
Acer has also focused strongly on the netbook sector, which is a fast-growing section of the PC market. Dell founder and CEO Michael Dell prefers to bank on commercial sales, where his company is strong.
That could be a mistake, according to IDC's O'Donnell. "Dell has gone from No. 1 to No. 3 in the PC market, and it's not been a good story for them," he said. "More than 50 percent of the market is consumer-driven, and Dell has consumer products, but it doesn't have a strong presence in retail."
Dell has its products in Best Buy, Staples and Wal-Mart, so what's the problem? "Dell doesn't know how to do retail well," Forrester's Gownder said. "Dell just got back into retail a couple of years ago, and it takes a long time to figure out how to manage SKUs and how to get premium placement with partners."
Didn't Dell get its start on the consumer side? It did, but it's been focusing on the enterprise market too long, Gownder explained. That's what made it vulnerable to the recession. "When 85 percent of your business comes from the enterprise, you have no way to go but down when companies stop spending on upgrades," he said.
Still, there is hope for Dell. "Should the commercial market come back into play, Dell could easily beat Acer," IDC's O'Donnell said. The enterprise market could see an uptick in March or April, he predicted.
Overall, HP will probably retain its top position in the PC market, O'Donnell said. "HP is pretty well-balanced in both the commercial and consumer market," he explained.