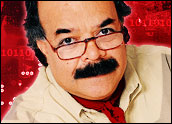 The language of the business culture, or "corporate lingo," took a dramatic turn with the advent of the word "software." What changed is history. Now, once again, techie lingo is teasing our communication skills and our corporate understanding.
There are terms like BAM for "Business Activity Monitoring" and CEM for "Complex Event Management." What these new terms are trying to ask us is how well we run our corporate circus.
BAM amounts to the tools to manage a great three-ring circus under a huge tent. Simply put, it will keep the masters of ceremonies up to date on what's happening at any given time. They can see why the clowns, once again, are not behaving properly or why the elephants are having indigestion again, and even why, despite management warnings, the risk-taking lion tamer is still alive and laughing all the way to the bank.
Corporate Circus
That kind of stuff. Basically it is all about new sets of tools so that the entire circus activity is simultaneously monitored and displayed graphically in living colors. It sounds so simple.
For corporate executives, it is still a very challenging task to fully understand these new terminologies and how they can deliver all this brand new magic. After all, everyone is convinced that to some degree, they already have a custom-built system to provide this BAM and CEM capability. However, in reality, today's business activity critically needs much higher-level cross-silo-real-time integration — something where traditional software has just about failed. This new challenge by this new technology starts a brand new war of the words.
The technology champions — or the fine trapeze artists — of this new corporate circus boldly claim that this is a brand new revolution. Time will tell. Best we first relate to the general corporate perceptions and attitudes, particularly the mindset with computational understanding before the word software was fully understood and created a revolution. Here, branding comes into play.
One of the main applications of this new technology is being tested on the U.S. requirements under the Sarbanes-Oxley Act, and on a similar rule under Bill C6 in Canada. Apparently this technology enables extraordinary control over things as they occur rather than catch them in periodic sampling.
Catch the Culprits
There are too many emerging issues; Internet fraudsters, motivated by money and armed with sophisticated technology, pose an increased economic threat, while corporations have exhausted their resources on these ever-growing problems.
Bashir Fancy, in the past, has been executive vice president of Risk Management and also senior vice president of Internal Audit for Visa International. Prior to that, he was head of Risk Management for Visa Canada. He strongly claims that this new BAM technology is the way to go.
He explains: "We can catch the crooks before they disappear, this technology, once applied, allows you to have your compliance monitored in real time … just as it happens."
Bashir, now chief operating officer of www.nmiinc.com, flags his out-of-box product, "ATMA," as a toolkit for Sarbanes-Oxley. His solution fully leverages the client's existing infrastructure and non-intrusively offers compliance, enabling a real-time sample mode.
"Fraud is an abnormal behavior in a normal environment, and with BAM, we can catch it in time" Bashir says. "We bring BAI, or Business Activity Integration, as the new real game."
The compliance and fraud sectors both require a major shift in thinking as it is no longer a question of just maintenance, rather it is all about prevention. Real time monitoring across silos now provides this opportunity.
Variations of BAM, such as BSC for service components and BPM for process management, are all the new big ideas on the horizon. It seems that BAM or its related components must be clearly understood by corporate executives before they can fully appreciate the power behind these simple acronyms.
New Order of Business
The application of these new technologies will dramatically enhance and improve customer relationship management (CRM), cross-selling, security and compliance. Eventually, they will change the thinking for the entire corporate body about how to run operations designed to oversee all activities in real time across the total enterprise. It might sound too good to be true — just like the early concept of the Web.
Marketing new concepts takes a long time, and once they are understood, they take off like a rocket. Today there are hundreds of new technology companies all claiming some kind of dramatic improvements in operations with the use of BAM and CEP. For those technology companies that really have this side of the technology mastered and have the tools ready to go, these new platforms will work and they will do wonderful things. Like anything else, once properly applied, they can certainly kickstart a new kind of a revolution.
While the term "IT" along with its existing software and hardware is almost at a standstill, perhaps there is something very powerful and secretly hidden in the "B" word along with these new terminologies. This new corpo-lingo pushes the envelope for a global mindshare and how to manage business activity integration in real time while creating better business models, all aimed to create real power.
Something never seen before? Will it create a new world for the business empires? Will it create new real-time monitoring standards and control and set new order? For now, let the real clocks chime in real time.
Remember, in the early start up stage, the terms software, hardware, Internet, e-mail or Web were all just some strange lingo. BAM anyone?
---
Naseem Javed
, author
Naming for Power
and also
Domain Wars
, is recognized as a world authority on global nameidentities and domain issues. Javed founded ABC Namebank, aconsultancy he established a quarter century ago, and conducts executiveworkshops on image and name identity issues. Contact him at
[email protected]
---