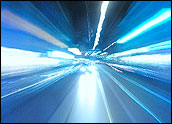 Your world is about to change. 5G is coming. Whether you are a wireless carrier, a handset maker, an app developer, a mobile TV provider, a worker, investor or consumer, your world is about to undergo a major transformation.
AT&T recently announced plans to start testing 5G technology this year. Wireless data transmissions will be 10 to 100 times faster over 5G than on current 4G networks, the company predicted. Do you have any idea what that means? Sure, it means new products and services on the blazingly fast wireless side, but it also means that incredible innovations will transform industry after industry.
Wireless has improved and gotten faster with every new version over the last couple of decades. In the 1990s, wireless transitioned from analog to digital. Then every few years, the network technologies advanced — from 2G to 3G to 4G — getting faster and better. Now the wireless world is preparing for the new 5G world, which will be faster than you can imagine.
With 5G, many industries — healthcare, automotive, retail, home security and many more — will be able to supercharge their offerings, changing the competitive playing field. Every one of them will be transformed.
Mobile Television
Consider AT&T's mobile TV service, which is available with DirecTV and U-verse subscriptions. It lets users use smartphones and tablets to watch television wirelessly over the AT&T Mobility wireless network, anywhere in the United States. This is an incredible advance.
Many more industry-reshaping offerings will surface as every wireless carrier moves toward 5G. This change will pressure every pay TV competitor to move into the same space. Those that don't will simply lose market share.
Pay TV initially meant subscriptions to cable television companies like Comcast, Time Warner Cable, Charter and Cox. Today it includes services from AT&T DirecTV, AT&T U-verse, Verizon FiOS, CenturyLink Prism and others.
Tomorrow's pay TV will look much different. It is changing, thanks to mobile TV and IPTV competitors.
This transformation will start with one or two players, which will enjoy rapid growth. Then, as other companies begin to lose market share, many will jump into the new space. Companies that refuse to transform will continue to lose market share, and many will not survive. That is what history has shown us.
5G Leaders and Followers
The early companies are the leaders. They take the arrows. They are the bold visionaries that create the rules for the next wave of competition as their industry evolves to the next level. They steer the new ship through changing waters.
The next wave of companies is the followers. They will yield to transformation after they start to lose market share — but they will join it kicking and screaming, moving as slowly as they can.
The third group of companies simply won't change. They are the companies that cannot think outside the box. They will continue to milk a wounded animal until they become inconsequential. Many will die.
Expect the language to adapt. The wireless trade group 4G Americas announced just last week that it is changing its name to "5G Americas." Soon "5G" will be the term peppering everyone's communications.
5G Growth Wave
How can you leverage 5G in your life, you might ask? Consider the growth wave. Every opportunity grows, then crests, and then falls. There are no exceptions.
Some companies create one growth wave after another, and continue to grow. Think Apple, Google, AT&T, Verizon, Sprint and T-Mobile. Other companies don't. They ride a single wave up and then down again. Think Motorola, BlackBerry and Nokia.
Look for Growth
If you are an investor, look for growth-oriented companies — those riding the current growth wave and those that are creative enough to build the next growth wave. They are the companies that will continue to grow and reward their investors.
If you are a worker, look for growth-oriented companies. There are enormous opportunities for valuable employees and executives of growing companies in this world.
If you are a customer, look for growth-oriented companies. They direct the conversation and the evolution of the marketplace. They are easy to spot.
Look for companies that are leading the charge into the 5G world. Some companies will be strong growth engines. Some will have newer names, but many will be proven and familiar firms with a great track record for growth and change.
5G is coming, so we must choose well. It not only will transform industries and industry segments, but also will usher in a very exciting period of change.
The 5G future will be amazing. Are you ready?