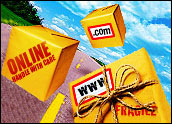 Too many e-commerce companies treat shipping as a commodity. The ones that don't, win.
Amazon and Zappos are prime examples of companies that care about fast fulfillment, and they have millions of loyal customers because of it.
The good news is that you don't have to offer free next-day shipping to delight customers. Just nailing the basics can set you apart in a sea of mediocre competitors. Here are six common pitfalls — and ways you can avoid them.
1. Unrealistic Rates
Seventy-seven percent of more than 1,000 American consumers preferred free shipping to fast shipping, in a recent survey conducted by Pitney Bowes. Shipping price is so important to consumers that 49 percent said they had abandoned their shopping carts due to shipping costs alone.
Wow.
So how do you avoid scaring off an increasingly shipping-conscious consumer? By being completely transparent with shipping costs.
I can't tell you how many times I've gone to a site to buy a US$20 item and the shipping comes to $15. Why would retailers do that? Because they don't have real-time rates integrated into their sites. They build simple — but inaccurate — rules.
Price isn't always an accurate indicator of shipping costs — just ask anyone selling jewelry. By integrating real-time rates, you'll convert more shoppers into buyers, and save money on shipping while you're at it.
2. Unrealized Volume Discounts
It's surprising how few online retailers stay abreast of volume discounts. With as few as 5,000 USPS First Class shipments a year, you can save 10 percent on shipping.
Many companies don't realize they're eligible for discounted shipping rates. Carriers don't exactly go out of their way to announce these discount programs. However, even if you're shipping relatively small amounts — say, 100-200 packages per week — you're likely eligible for some kind of discount.
All you have to do is ask the carriers, and they'll give you volume-based negotiated rates. With just this simple change, you can add 10 percent to your bottom line — up to 30 percent if you're shipping more than 75,000 packages per year.
3. Slow-Poke Delivery
Many online retailers struggle with speed. We see a lot of click-and-ship software to generate labels, which requires copying and pasting address upon address. Consequently, it takes longer than necessary to get items out the door.
However, if you generate shipping labels immediately — and send the customer the tracking number — you'll buy time in actually shipping it. The customer will assume you shipped the item right away, because you gave them a tracking number right after their purchase.
The second piece of the shipping speed puzzle is understanding when to ship USPS Priority Flat Rate. In many cases, this will increase speed of arrival to two to three days while dramatically decreasing shipping costs. You save money and get happier customers: win-win.
Lastly, know your pickup times! By rushing to get your end-of-day orders out before pickup, you'll reduce the shipping time by a whole day. Often, this is just a matter of prioritization. Get those orders out the door, and your customers will have their purchases at least a day sooner.
4. Too Little Information
All major retailers have tracking numbers for their shipments, but many smaller ones fail to pass this info on their customers. Thanks to retailers like Amazon, customers now expect to see when their order will be delivered. If they get no updates as to delivery, they get frustrated.
This results in endless support emails asking, "Where's my package?!" By promptly passing on tracking numbers to customers, you'll remove the majority of those support requests.
This also gives you extra insight on your end. Now, you can see when packages have been delivered and make inventory adjustments if a customer requests a return or needs an additional item because their first order didn't arrive.
5. Weak Customer Support
By having full insight into your shipping — speed, cost, tracking and estimated delivery — you can provide your customers with topnotch support. This means alerting them when packages have shipped, arrived or failed to deliver — the full gamut of shipping-related support requests.
All this can be done proactively. After all, the worst-case scenario in not receiving a package occurs when the retailer has no clue. Know where all your shipments are and when they'll arrive, and your customers will thank you for it.
6. Inaccurate Addresses
Failed deliveries cost a retailer an average of $85. That's because the customer associates the failed delivery with the retailer, not the carrier. This makes for unhappy customers, a bad retail experience, and poor word of mouth.
Because most retailers ship replacement products faster — at increased cost to them — it hurts profitability. By verifying each address before shipping, you can prevent failed deliveries and save serious shipping dollars.
This is especially important for international orders. Shipping to an inaccurate address internationally is expensive. You go through the hassle of filling out customs forms, paying for shipping, and dealing with the extra time that international shipping entails and have to go through the whole process again when your package is undeliverable. International address verification is an expensive piece of the shipping puzzle to get wrong.
Simply avoiding these six common mistakes is enough to make a company stand out in a sea of shipping mediocrity. Get these six things down, and you're right there with Amazon, eBay, and Zappos as companies with customer-friendly fulfillment. Your customers will thank you for it.