ZipRealty recently released a mobile CRM app that complements its custom-built Zap online CRM system. While the mobile version, dubbed "mobile Zap," has the same functionality as its online desktop counterpart, it was designed with an eye to accommodating real estate agents' on-the-go schedules, Jamie Wilson, the company's senior vice president of technology, told CRM Buyer.
"We organized our dashboard around how an agent works back and forth on the desktop and mobile," Wilson said.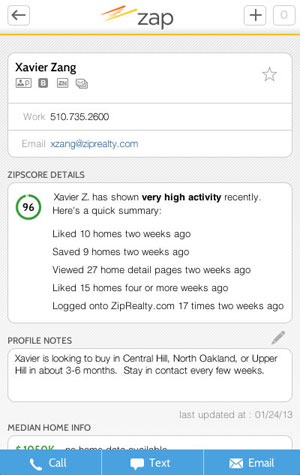 "An agent starts out each day most likely on the desktop app doing a quick analysis of what is happening in the market, checking his or her calendar, going through the task list, touching base with new prospects and following up on new leads," he explained.
Next, they'll typically hit the road for showings," he said.
An agent might have two more showings scheduled for any given day, and not necessarily back-to-back. That means a lot of time sitting in a car or at a local Starbucks waiting for the next appointment — and working remotely via a smartphone.
That's where mobile Zap comes in.
Geolocation Functionality
The new mobile app's Contact Alerts feature, for example, alerts agents as soon as a client wants to visit a property or has a question. Agents can select how to respond — whether with a call, text or email — based on the client's preferences.
Another feature is the app's geolocation functionality. Agents can add property showings and comments about those properties directly to ZipRealty.com from their devices while they are at the property.
"If I want to note an amazing deck or a remodeled kitchen at a particular property, I can include those descriptions right on the spot," Wilson said. "This showcases the agent's knowledge about property and also provides valuable information to consumers."
There is also Mobile Office, which gives agents access to daily tasks and notifications and calendar — all the same tools they had used that morning on the desktop.
The ZipScore
The mobile app also comes equipped with ZipRealty's proprietary algorithm called the ZipScore, Colin McConnell, ZipRealty's product manager, told CRM Buyer.
"The ZipScore measures all consumer activity on our website to create a scoring engine for agents about their prospects," McConnell explained.
Every contact is ranked based on that person's activity on ZipRealty.com and ZipRealty's mobile apps. That ranking — the ZipScore — shows agents who is ramping up their home search and who is ready to transact.
Say, for example, someone begins printing out directions to a property.
"That person's score will be immediately updated and the agent will see that the client has bubbled to the top of the prospect list," McConnell said.
The Seamless Back and Forth
Including the ZipScore in the mobile version was a deliberate decision on the part of the company, which wanted to give agents full access to the CRM platform from their mobile devices, Wilson said.
"Anything they can do in the full version they can also do in the mobile version," he said. "Our agents didn't want anything that was watered down because they spend so much time out in the field."
ZipRealty also focused on the syncing technology to ensure it was seamless — again, with an eye to agents' mobile workdays.
"After spending a day showing properties, the agent usually comes back to the office to enter data and update files," Wilson said.
With mobile Zap, a lot of the work will have already been done over the course of the day, so that when the agent logs onto the desktop, she will see most if not all of her files already updated.