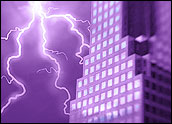 Ziff Davis Media has filed for Chapter 11 bankruptcy protection.
The publisher of technology and video game magazines — it produces online and print versions of PC Magazine and Electronic Gaming Monthly and 15 Web sites, including its 1UP Network video game information sites — cited falling advertising revenues in its print publications in filing for protection from creditors in the U.S. Bankruptcy Court in the Southern District of New York.
The company's creditors, which number between 1,000 and 5,000, have set aside US$24.5 million to keep it afloat during and after Chapter 11 protection, it said.
Plan Set in Motion
Davis is seeking protection while it implements a restructuring plan that it arranged in August with senior-level secured note holders, Jason Young, the company's chief executive officer, told the E-Commerce Times.
"We've got a profitable business — an extremely valuable digital platform with 23 million unique visitors, which has grown at a 20 percent annual rate," Young said. The company, which been working over the last several years to transform from an all-print platform, now earns most of its revenue from its digital products. Young declined to provide specific numbers.
"The issue is that, while our business transformed from magazine business to digital, the capital structure never evolved with it," he added. "That's what we set out to fix in August, to at long last correct that capital structure. So, we announced the deal with the senior debt holders that calls for the company to be de-leveraged."
Junior note holders have not signed off on the restructuring, which prompted the trip to court. "They don't disagree with the notion of the business being de-leveraged," Young commented. "They only thing they disagreed with was who gets what percent of the equity. As hard as we tried, it wasn't possible to reach an agreement, so we took the step of reorganization to let the court answer that last question. Once that has happened, we're going to have a business that, on top of having a very solid operating platform, will have the capital platform to go with it."
Implementing the Plan
The company believes the restructuring plan can be approved by the court without agreement from junior holders.
"This would be typical in a restructuring either out of or in court, where you reach agreement with the holders to reduce debt for some other type of security — in this case common stock," company spokesperson Andy Brimmer told the E-Commerce Times.
Ziff Davis expects to emerge from Chapter 11 protection during the summer, Young asserted. Prior to beginning its restructuring plan in August, the company had a total debt of $390.4 million, between $225.6 million in senior secured notes and $168.8 million in junior-level notes.
If the court OKs the plan, it will result in a substantial de-leveraging of the Davis' balance sheet, Young added. Debts on senior notes will be exchanged for a maximum of $57.5 million in senior secured notes and at least 88.8 percent of the company's common stock. The plan also provides for 11.2 percent of the reorganized company's common stock to be distributed to holders of the Davis' junior-level unsecured notes if those holders approve.
The plan will go a long way in relieving a crushing debt load, Young said. "We've made some major progress, operationally. We have migrated this business as successfully as anyone else in our space. This restructuring has never been about our operating platform. We've never not made operating profit in the last five years. Surely, the transition from a 100 percent magazine format to digital was challenging, but it's a great platform. Once we get to this final resolution, we're incredibly bullish on what we'll be able to do."