Zeebox is free in the Google Play store.If you read my columns regularly, you'll know that I'm a second-screen proponent.
For those unfamiliar with the dual-screen concept, it suggests that tablet or phone often accompanies big-screen television watching, resting on the viewer's knee and acting as a two-way, interactive, Internet-connected screen.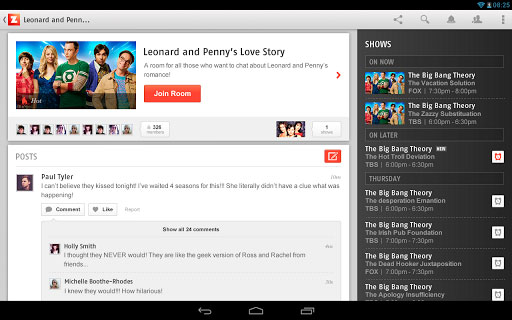 Where the concept breaks down, however, is that no one really knows how second screens are used. It's all a big guess.
Twitter and other social networks will have you believe that second-screeners are tweeting about television shows; Amazon reckons you're buying things; and I, for one, find myself browsing websites totally unrelated to the television program I'm watching. So, who knows?
'TV Rooms'
Zeebox thinks it's come up with a compelling app geared predominantly towards second-screeners — an app designed to be open on device while you watch television; one that specifically pulls together the television-viewing experience with social networking.
Zeebox pitches itself as a "TV sidekick" social television guide that helps you discover new shows and learn more about shows you're already familiar with; and it does all of this live.
First up in the mix are TV Rooms. TV Rooms make total theoretical sense. Think of them as forum-like discussions and commentary centered around one show, subject or genre. You choose your room, or create one, and enter into a dialog with your fellow fans.
Audio Recording
I found the room-browsing experience similar to that obtained in a Twitter session with a Twitter hashtag, where you follow based on hashtag as the show plays out. One difference with Zeebox is that it has a built-in schedule — you can see upcoming shows without leaving the app.
Annoyingly, Zeebox forces you to use either a Facebook or Twitter login, or both, to join rooms. I reluctantly used my Twitter account. A native login is an irritating omission. Zeebox does ask you, however, when it wants to retransmit what you've said, and says it does the same for Facebook.
Other features include a record-audio function, which can identify what's on your television; a channel-changing remote for Xfinity cable subscribers; and trending shows in a TV Picks tab.
The TV Picks tab within the app provides show suggestions. Included here are most popular, Zeebox recommended, biggest buzz, what the stars are tweeting about and so on. I found it a good place to see what America was watching.
There is a "Recommended For You" panel that, bizarrely, recommended that I watch The Roy Rogers Show, the Lone Ranger and a cartoon called Arthur — go figure.
Still, I was unable to find any kind of genre search though which I could enter an obscure show subject and get suggestions for high-brow like-shows as well as a bunch of instant, equally obscure friends to chat with. It was all very Lowest Common Denominator — not that there's anything wrong with that.
Conclusion
The whole second-screen shebang is wide open and Zeebox has jumped straight in. I have to hand it to Zeebox, it's working the second-screen concept.
Overall, Zeebox is spot-on in terms of its idea. It covers all the second-screen bases: social networking, TV news, reviews, schedules, chat and so on.
I may not be its target audience, although I am a second-screen adopter; unfortunately, there's a limit to what I can come up with to say in a forum about Keeping Up With the Kardashians or Long Island Princesses — two featured home-screen pick shows.
Only time will tell if Zeebox-like social networking related to television viewing is what second-screeners want to do. Meanwhile, if you'll excuse me, the Lone Ranger has just started? Also I must just check this weekend's weather forecast on my tablet.
Want to Suggest an Android App for Review?
Is there an Android app you'd like to suggest for review? Something you think other Android users would love to know about? Something you find intriguing but aren't sure it's worth your time or money?
Please send your ideas to me, and I'll consider them for a future Android app review.