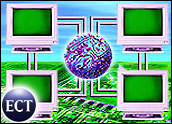 IBM has unveiled its WebSphere Application Server Version 5, an e-business infrastructure that builds on the integration capabilities of previous releases. This latest version is the natural next step in the evolution of application servers, said Stefan Van Overtveldt, director for WebSphere technical marketing.
"If you look at the past 25 years, application servers were first basically used to put a Web front end on existing applications," he told CRM Buyer Magazine. Today, "application servers are acting more and more as integration conduits for such activities as Web services and portal technology. This is really what WebSphere application Version 5 is all about."
Scheduled for Delivery
To be sure, users now expect seamless integration of application servers and associated products.
"The customer shouldn't have to know that the company has five different divisions and three manufacturing plants — just that their order is on schedule for delivery on Friday," Giga Information Group vice president Erin Kinikin told CRM Buyer.
"Products like WebSphere are working to deliver improved enterprise integration, more sophisticated personalization and analysis, and flexible business process and workflow engines," Kinikin said, "to serve customer requests in a … manner transparent to the underlying company infrastructure."
On Demand
WebSphere Version 5 is the first release to serve as the underlying platform for IBM's on-demand software, an initiative announced earlier this month by CEO Sam Palmisano. It will tightly integrate with other IBM products, including DB2, Tivoli and Lotus, the company said.
It also offers very broad support for open standard J2EE (Java 2 Enterprise Edition); in fact, it is certified to the current standard, J2EE 1.3, and has configured its system as much as possible to the J2EE 1.4 standard, which is still in development, according to Van Overtveldt. "We are supporting as much as we can without getting ahead of the technology," he said.
Donated to Open Source
Other standards and technologies that Version 5 supports include new developments by IBM that have been donated to the open source community:
Web Services Invocation Framework (WSIF) — a technology for developing Web services across a variety of network and transport protocols, from HTTP to instant messaging; and
Axis 3.0, a new high-speed Web services technology that processes Web services SOAP requests three to four times faster than is currently possible, according to the company.

Other features built into the new product include support for the Web Services Gateway, which gives users a more managed and secure environment for Web services across the Internet; and Web services workflow, which allows developers to build networked applications that link multiple business processes, such as checking approvals, inventory, credit and shipping.

Finally, the application server offers enhanced support for autonomic computing — a core competency of IBM.
Practical Applications
The upgrades give users some very practical advantages, Van Overtveldt said. For example, the self-optimizing features allow a company, such as a travel agency, to give priority service — favoring a premium customer who is likely to purchase a ticket over a relatively unknown shopper who may just be browsing, he explained.
"These developments support the notion that companies should be able to adjust their business processes by linking together existing applications or linking to applications of business partners and service providers, and do that on top of an IT infrastructure that can be adjusted to supplement their own internal servers with external resources," he noted.