Wave Control Pro, an app from MarksThinkTank, is available for US$2.99 at Google Play.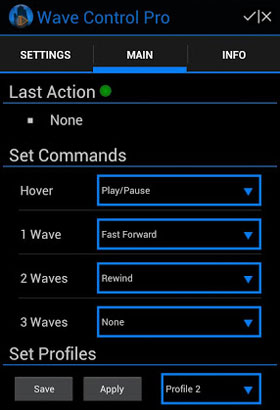 It's the holidays, and if your Android smartphone is feeling a bit neglected, I've gotthe perfect gift for it. Forget automating your life with remote-controlled garage dooropeners, motorized big-screen TV mounts, and electrically driven drapes — that's all solast-century.
Controlling your phone with a wave of your hand is where it's at this holiday, in myopinion. Get the kids a Furby, Wii-U, Lego's Ninjago Epic Dragon Battle or whatever,and get yourself touch-less media control. It's hours of fun.
About the App
Wave Control Pro uses theAndroid smartphone's proximity sensor to let you control a phone by waving your palmover it. Settings for many media apps — like Slacker, Winamp, Spotify and Pandora — are pre-installed.
Actions are simple. Patiently hovering your hand over the sensor — usually located at thetop of the phone — pauses or resumes the track. One dismissive wave over the phoneadvances the media to the next song. A double wave starts the previous track, and ademonstrative three waves enables or disables the controls.
I found Wave Control worked well with subscription-based music service Spotify on aMotorola Photon 4G smartphone and streaming radio Pandora on a Samsung Galaxy Y,but not at all on my Toshiba Thrive tablet. Nothing worked in that case. However, thepublisher is looking for tablet-user beta testers, so maybe this will be corrected indue course.
Enabling the App
The publisher is clear that you need to enable headset control within the media app thatyou're using — it's the headset functions that are used to control the media. He also explains that moving your hand too fast when hovering will create a mis-read and be interpreted as a wave. I found that each wave or hover action requires about a second.
I also found that I quickly got the hang of waving — after a while correcting earlierinadvertent mixed-messages that I had sent — and became a Wave Control expert. There'sa test mode within settings that you can use to play around with your technique. Irecommend doing so, partly because it allows you to figure out the sensor location.
Worth the Price
I chose the paid Wave Control Pro version rather than the free edition, because inaddition to not having ads, the Pro version has more commands.
For example, youcan assign waves to different actions, like screen turn-on. You can launch Google Voice Search,volume up and down, and so on.
With all thehand waving and media starts and stops, I felt like a cross between a sorcerer and a monarch dismissing a commoner. But surprisingly the app did work — and work well.
Nice Bonuses
One side-benefit I obtained was a non-smeared screen. The waving and non-touchingof phone, in addition to the seductive sorcerer power trip, keepsthe device finger-mark free.
In fact, keeping a pristine screen and waving while driving are two splendid purposes for getting this app.Operating fiddly on-phone buttons while driving presents obvious safety concerns, and Idon't know about you, but my screen is always finger-marked.
I found that leaving the phone in an after-market cradle, or even lying on the dash andthen performing a hover or wave to stop the music or advance songs works well in thecar.
The publisher reckons his app would also be good for cooking — control the music withhands covered in dough — or while cleaning, eating or working out. I agree with him. I'm looking forward to trying this next time I'm stuffing my face with street-vendor food or elsewhere when napkins are rationed.
More seriously, though, the call functions — letting you pick up a call without touchingthe phone — have implications across verticals, not least in the medical field.