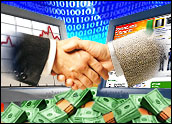 Application infrastructure firm Citrix will buy open source virtualization company XenSource for US$500 million, a deal announced just hours after another virtualization firm made a dazzling debut on Wall Street.
Citrix will pay a combination of cash and stock for Palo Alto, Calif.-based XenSource, a move that will enable it to enter the fast-growing market for virtualization of both servers and desktops.
The move is also a boost for Microsoft, since both companies support Windows environments and have development agreements in place with the software giant, though the XenSource solutions are based mainly on the Xen hypervisor, an open source product. Microsoft's own virtualization tool, known as "Viridian," is not yet on the market, but is expected to be compatible with XenSource solutions.
Steering Into White Space
The timing of the deal is noteworthy since it came just a few hours after EMC spun off its virtualization firm, VMware. That company's initial public offering gained as much as 90 percent in its first day of trading, making it one of the most successful tech offerings in recent memory and underscoring the belief that virtualization has the potential to become a key part of many information technology setups.
Without singling out VMware by name, the companies quickly positioned the combined offerings as a feature-rich alternative to existing solutions.
"Customers will now have a strong alternative that is open, proven and backed by one of the most successful end-to-end software infrastructure leaders in the entire industry," said XenSource CEO Peter Levine. "This move is not about competing for the 5 percent of the market that is already being served. It's about steering into the 90 percent white space that is wide open, both at the server and in new emerging opportunities at the desktop."
Double Timing
The deal comes just a day after XenSource formally launched the latest version of its flagship product, XenEnteprise. Citrix said XenSource has seen its installed customer base double in the past three months to some 650 customers and expects that growth to get a boost from the latest release, which adds a number of features that VMware offers.
Citrix expects to gain an additional $1 million in revenue this fiscal year and approximately $50 million in sales in 2008. By comparison, VMware is on pace to break the $1 billion revenue mark this year.
Still, Citrix has a strong base of customers that use its application delivery infrastructure products to streamline the ways computer networks share software programs and information. Those customers are likely to be among those who will embrace virtualization as a way of getting the most out of their information technology, IDC analyst John Humphreys told the E-Commerce Times.
XenSource's latest release has helped "narrow the capability gap" among major virtualization offerings — adding features such as more intuitive monitoring and storage integration — Humphreys said, and the merger will enable Citrix's "strong installed customer base" to benefit from added choice.
Out of the Shadows
The Xen open source approach to virtualization offers a number of advantages when it comes to managing both servers and personal computers, Gartner analyst Martin Reynolds told the E-Commerce Times.
Still, support for Xen has been spotty among key hardware makers, including processor makers. In fact, Intel has taken a stake in VMware, a sign it will build machines that support that firm's approach to virtualization. XenSource, meanwhile, may benefit from trends away from traditional desktop-and-server setups, with enterprises embracing thin-client solutions in which desktops don't host or run their own applications.
Gaining a partner such as Citrix, which counts many large enterprises among its customers, will help raise the profile of XenSource, as will the attention being paid to virtualization thanks to VMware. "It's not a secret or a niche technology any longer," Reynolds said.
Citrix shares rose 2.4 percent on the news of the deal, to $33.53. The companies said they hope to close the purchase during the fourth quarter.