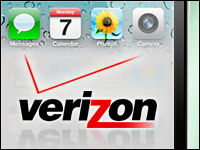 Verizon posted its first-quarter earnings on Thursday, revealing the company sold 2.2 million iPhone 4 models, Verizon's most successful launch. It activated its first iPhones on February 10, a month into the first quarter.
The iPhone was previously exclusive to Verizon rival AT&T, which reported an impressive 3.6 million new Q1 iPhone activations during its first quarter, up 1 million from last year.
Verizon also sold 500,000 other 4G devices, 260,000 being HTC Thunderbolts.
Verizon Wireless reported a net addition of 906,000 postpaid subscribers, well ahead of AT&T's 62,000 announced on Wednesday.
Verizon's earnings rose to US$1.44 billion, or 51 cents a share, from $443 million, or 16 cents a share, in the same quarter last year. Revenue rose to $26.99 billion, up from 26.9 billion a year earlier. Cash flow from Q1 operations was $5 billion, down from last year's $7.1 billion.
Verizon did not respond to the E-Commerce Times' request for comments by press time.
The Market Knew
Given user frustration with the AT&T system — which was rated low by customers in a Consumer Reports study late last year — the wireless industry was anticipating a big score by Verizon once it got the iPhone.
"The 2.2 million in iPhone sales was 200K higher than I expected, but for the most part it was as expected," Michael Morgan, senior analyst, mobile devices for ABI Research, told the E-Commerce Times. "I would expect that by the end of the year, Verizon Wireless will have 9 to 10 million iPhones running on their network."
However, Morgan expects that only about 2 million of Verizon's iPhone customers this year will have come from customers transferring from AT&T or other carriers.
If Verizon offered more exclusive features to its new iPhone customers, it might be easier to steal customers from AT&T.
"I have not seen anything that would indicate a mass exodus to Verizon at this point," said Morgan. "I believe there was some overhyping with respect to the Verizon effect. That being said, if Verizon gets an iPhone version/capability that AT&T does not get — that is, an LTE iPhone — then this effect could increase."
AT&T announced plans to acquire T-Mobile last month, but the deal still awaits approval by Washington regulators. Some T-Mobile customers may appreciate the new opportunity they'll have to get an iPhone from their new carrier, AT&T.
"By the time the T-Mobile deal does go through, consumers will have had plenty of time to move to their network of choice, and it will merely add a larger addressable market to AT&T for selling the iPhone," said Morgan.
On the other hand, the T-Mobile acquisition could give Verizon a chance to snatch up some T-Mobile customers who don't want to get folded into AT&T.
"To capture wayward T-Mobile customers, it will be important to offer low-cost plans that will let T-Mobile customers retain plan pricing they are familiar with," said Morgan. "Verizon will need to consider the cost of capturing a set of customers that have historically offered lower revenues. Meanwhile AT&T will have to find a way to make these customers more profitable if they stay."
Is Verizon's Glass Half-Full or Half-Empty?
While some market watchers expected Verizon to sell more iPhones, others believe it did just fine. The hype pushed the notion that Verizon would score bigger with its first quarter of iPhone sales, but the fact is, there are plenty of smartphone choices out there, now that Android models are rivaling the iPhone for functionality.
"The volumes are in line with our expectations, given the balance between latent demand for a Verizon Wireless flavor of the iPhone and the amount of choice that consumers have today among platforms carriers, platforms and device vendors," said Alex Spektor, senior analyst for wireless devices strategies at Strategy Analytics.
"For comparison, the 2.2 million is higher than the Motorola Droid sold in its initial quarter of availability with Verizon Wireless in Q4 2009," he told the E-Commerce Times.
AT&T has had exclusivity selling the iPhone since the phone launched in 2007. Verizon is the second service provider to carry the iPhone.
"AT&T has the advantage of a lower-priced last-generation iPhone 3GS, which allows them to target consumers with a tighter budget," said Spektor. "This advantage will be lost once the next iPhone comes out, as both carriers will have access to two generations of the product."