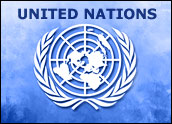 A European telecommunications agency in December proposed that the United Nations collect a tax on some of the largest websites and network providers in the U.S. for their overseas activities, according to documents that recently surfaced.
ETNO, the main telecommunications operators association in Europe, proposed the policy at a meeting with the International Telecommunication Union (ITU), the telecom agency within the UN. ETNO is based in Brussels and represents 41 operators in 35 European countries.
The ITU's latest set of rules was composed in 1988, meaning "new services" and "rapid Internet traffic growth" in the evolving online scene should warrant an updated set of regulations, ETNO stated in its proposal.
The proposed tax would apply to some of the Web's most content-heavy services, such as Facebook, Google and Netflix, and would apply to the bandwidth those sites use outside of the U.S.
Neither ETNO nor the ITU responded to our request for comment.
Says Who?
Before the pros and cons of ETNO's proposal can be debated, the ITU would have to figure out a way to legally impose such a tax, Jonathan Watts, an attorney specializing in business, Internet and tax law, told the E-Commerce Times.
"What is happening here is essentially a proposal to revise an international treaty," he said.
Even if the ITU were to move to create the legal authority to go forward with the proposal, it's unlikely it would receive the kind of support it needs to make it a reality, said Kenneth Anderson, professor of law at American University.
"The UN doesn't have any authority to wake up one morning and impose a tax," he told the E-Commerce Times. "It would require an agreement between the nation states, and that is essentially an impossibility, because many of the powerful states would wind up not agreeing on this issue."
The proposal also didn't make it clear how much money would be raised from such a tax, or how or where the proceeds would be distributed. Unlocking the answers to those questions would require even more intense debate, said Anderson, since they aren't questions that have been asked before.
"This proposal doesn't have an obvious path," he said. "There are a lot of questions here, and it's playing into a few different agendas, and it's probably not going to happen unless a lighter version of it slips in through back doors."
Bringing Bigger Issues to Light
If the proposal were to somehow gain traction, though, it could raise larger questions regarding how long the so-called open Internet can exist without taxes or fees for worldwide use. Many open Internet advocates believe that imposing taxes on websites could effectively change the Internet landscape and give smaller websites and developing countries less of a chance of gaining Internet exposure or access.
"We think the UN and ITU should stick to its traditional functions in settlement rates and technical standards," Art Brodsky, communications director at Public Knowledge, told the E-Commerce Times.
ETNO may be well aware that the idea is a long shot, said Anderson, but by issuing a radical proposal, it's started conversations about the rapidly growing global network.
"This is essentially a stunt by the European Telecommunications body," said Anderson. "It's one that pops up with increasing regularity because there is an underlying resentment that the U.S. has such a strong governance over the Internet. There's an effort to push back against that, and also an effort among some that the UN be able to impose fees on various things. This proposal plays nicely into uniting those two things that some would like to do."