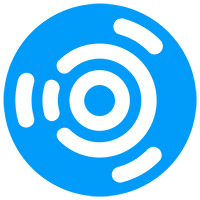 Ubuntu Studio 15.10 is a one-stop Linux OS shop for most creative people. It bundles a nearly full range of multimedia content-creation applications for workflows involving audio, graphics, video, photography and publishing.
The developers describe this distro as a multimedia content-creation hub for all five creative workflows. The last element — publishing — is the weakest link. The publishing category in terms of the traditional wordsmithing genre is missing.
Sure, you could take the time and effort to track down various desktop publishing and authoring tools. You can install tools for book publishing from the repo using Software Center, but that isn't the approach the distro provides for the other content-creation categories.
The publishing applications preinstalled amount to the LibreOffice Writer module and Scribus Desktop Publisher. Calibre, a popular tool for working with e-books, is available as an outside download only, despite being hawked as part of the toolset.
The lack of a bundled publishing category is a turn-off. A better solution would be having a bundled set of publishing tools available as an add-on from the main menu.
What's Inside
That annoyance aside, Ubuntu Studio offers creative users a hefty collection of some of the best multimedia creation and editing software stockpiled in Linux Land.
Ubuntu Studio is an official Ubuntu subproject. The latest version, released last month, is based on Ubuntu 15.10, aka Wily Werewolf. Its preinstalled software includes the most common free multimedia applications available and is configured for best performance for each of its targeted user specialties.
This is a transitional release that will be supported for nine months. It has a lot of application updating in terms of the Debian framework.
The most noticeable change is the main menu category list, which has been compacted from five categories to three: Audio Production, Graphic Design and Video Production. The menu still has many more categories, such as Internet, Accessories, Media Playback and Office, and a smattering of uncategorized software titles and system controls.
Sound's Better
The Audio Production category is packed with sound producing and editing applications. Playback apps include the typical audio tools available in many Linux distros and then some. Ubuntu Studio gives you much more than one choice for numerous tasks. The sound production tools are even more extensive.
For example, you get several submenus with professional-quality tools for sound effects, Instruments, Midi Utilities, mixers and card controls. Then the main Audio menu provides Ardour 4, Audacity, Brasero, Hydrogen, Internet DJ Console and a whole lot more.
The selection is extensive and combines tools for individual instrumentation as well as apps for multimedia file editing and media burning. The bundle includes some of the best sound apps in the Linux Marketplace.
For instance, LMMS is a basic music production tool for nonpros. MuseScore lets you create, play and print sheet music. Petri-Foo is a sound sampler. Pure Data is a visual data flow programming multimedia platform.
Sight and Sound
The Video Production category has a bit less to offer, but it's still a worthy collection of applications that range from amateur through almost pro-class offerings.
For example, Blender lets you work with 3-D modeling, animation, rendering and postproduction tools all in one place. The developers must think this application is a real winner since they include it in the Graphic Design menu. This is the case with the Ristretto Image Viewer as well.
DVDStyler is a video DVD production studio. You can do nonlinear video editing with Kdenlive. You can create and edit your own movies with Pitivi or use OpenShot to create and edit videos.
Xjadeo is a simple video editor that syncs audio from jack transport. RecordMyDesktop lets you do just that by making a video recording of everything you do on your desktop. This is a handy way to visually document a how-to topic.
Photo Finish Finesse
As good as the Audio Production tools are in this distro, the Graphic Design compilation is even more impressive. Ubuntu Studio has an awesome collection of photography and graphic production packages that put most other specialty distro menus to shame.
For example, its photography submenu includes Darktable to organize and develop images from digital cameras. Entangle lets you work with camera control and image captures from a tethered devise. Phatch Image Inspector is a tool for looking at EXIF and IPTC metadata.
Other titles make it fast and easy to download photos and videos from external storage devices and mobile memory cards. RawTherapee is an advanced photo development program.
Ubuntu Studio includes a handful of editing tools in this category that would better fill the missing publishing component. For instance, two programs for editing and managing fonts — FontForge and Font Manager — are included, along with the page layout and publication app Scribus.
Several applications for editing and creating vector images and digital painting images are mixed into the Graphic Design menu. These include Krita, Inkscape, MyPaint and GIMP image editor.
Topnotch Usability
The Ubuntu Studio community sidestepped the default Ubuntu Unity desktop environment in favor of the classic Xfce desktop. This choice makes Ubuntu Studio an inviting option for both seasoned creative pros and Linux newcomers.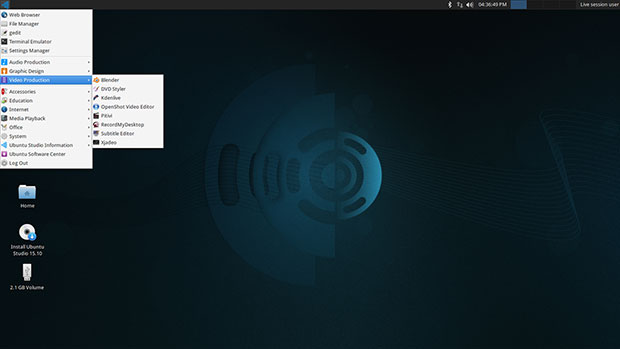 Ubuntu Studio uses a classic Xfce desktop. Its main menu, however, offers a poorly organized application listing.
The Xfce desktop is fast and easy to use. Its reputation for lightweight hardware demands make it suitable for most computing situations.
A fully functional panel straddles the top of the screen and holds the expected notification displays on the right side and the main menu button in the left corner. The virtual desktop switcher is preconfigured and is easily adjusted.
A second panel is preconfigured to slide into access at the bottom of the screen. This is a standard second fully functional panel that is set up to resemble an application dock or favorites bar. It's easily reconfigurable to suit individual user preferences.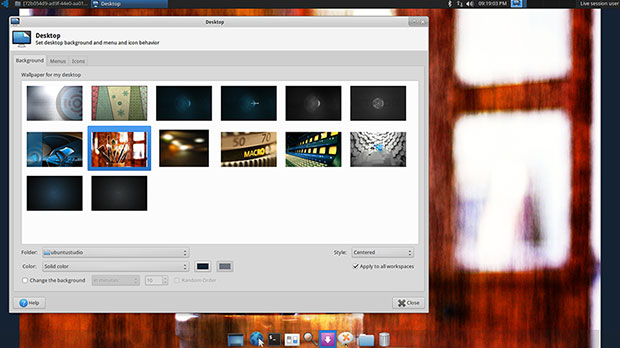 Ubuntu Studio lacks an artistic background gallery but has a useful hideaway favorites panel.
Right-click anywhere on the desktop to open a menu to launch applications and access various system settings and desktop properties.
Bottom Line
Ubuntu Studio 15.10 is a solid gateway for artistic enthusiasts and professional users coming into the Linux world. It caters more to graphic and audio specialties, but authors and publication makers have a reliable Linux OS to add the needed tools to round out the creativity hub.
Ubuntu Studio is a proven Linux distro that is closely aligned with one of the more successful Ubuntu spin-off releases. Even as a computing platform for noncreative users, Ubuntu Studio can be a good choice.
Want to Suggest a Review?
Is there a Linux software application or distro you'd like to suggest for review? Something you love or would like to get to know?
Pleaseemail your ideas to me, and I'll consider them for a future Linux Picks and Pans column.
Use the Talkback feature below to add your comments!