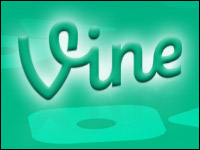 Twitter's Vine sprouted on Android devices Monday, allowing users to post 6-second videos in their tweets.
Earlier this year, Twitter launched its Vine app for Apple's iOS, but until now, Android users have been left out of the fun. Now they can get into the thick of it as well.
"Android owners: Welcome to Vine," said Android engineer Sara Haider. "Starting today, you can begin to shoot, share and watch short looping videos."
The new version for Google's mobile operating system will offer many of the same features as its iOS counterpart, including easy video creation with automatic playback and sound. It will also offer the same Explore functionality to allow users to discover popular posts and see what is trending.
A Find Friends feature, meanwhile, lets users invite people they know to join the service.
Unique to the Android version, however, is a feature called "zoom" that isn't available in the iOS version.
Only on Android
Twitter promised frequent updates to the software, with new features being released in the next few weeks. Possibilities include a front-facing camera, search, mentions and hashtags; the ability to share to Facebook; and a raft of bug fixes and performance improvements.
"Of course, this is only the beginning," Haider added. "We have exciting plans for features that could exist only on Android."
The new app, which is now available as a free download on Google Play for those with Android 4.0 and higher, will also gradually become more in sync with its iOS sibling, she said.
Twitter did not respond to our request for further details.
The Android Vine
Twitter has typically taken its efforts to expand beyond tweets to its iOS audience first. The Android version of Vine thus has taken some time to develop.
"To be mass market, which Twitter always looks to be, you really need to be on Android," Billy Pidgeon, an independent social media analyst, told the E-Commerce Times.
"The adoption rate of Android is larger even than iOS, so if they want to have coverage, they need to be on Android," he added. "Anyone who is making an app and wants mass coverage needs to be on both."
'A Big Hit'
Despite some early problems, Vine appears to be flourishing.
"Vine has proven extremely popular and viral," said Greg Sterling, principal analyst at Sterling Market Research. "It's a big hit. How long it will remain so is uncertain."
The Android version will likely open the door for additional opportunities, though it's anyone's guess what form they will take.
"It's possible that Vine will settle in and be widely used for certain purposes, but for now it remains a novel, entertainment-oriented distraction," Sterling told the E-Commerce Times. "Then again, so was Twitter when it started."
Compressed Content
Vines are short — really short. Long-form anything, of course, has never been Twitter's style.
"These 6-second videos make sense in the context of Twitter, which is about compressed content," Pidgeon noted. "So compressed video content — particularly on mobile, where it is less bandwidth-intensive — makes sense too."
A lot can be done even in such short time frames, suggested Pidgeon.
"This could be used by mobile media companies that are trying to gain to audience," he noted.
Questionable Video
Vine has not been without controversy, however. When it was released in January for iOS, pornography quickly spread via the app, and Twitter responded by adding age verification.
Now, with its broad release on Android, the microblogging service could once again find itself bombarded by users posting X-rated content.
This risk is to an extent just part of doing business online.
"[Pornography] exists, but they've managed to segregate it or make it less discoverable," Sterling said. "Certainly it was an issue when Twitter acquired Vine, much in the same way people discuss adult content as a potential problem for Yahoo in its acquisition of Tumblr."
It isn't likely that this questionable content will go away, but so far it does appear to be under control.
"These services — and it goes beyond Twitter and Vine — are used for a lot more than porn," said Pidgeon, "but that sort of concern isn't enough to keep companies from looking at products, such as Vine, as long as they draw in the users."