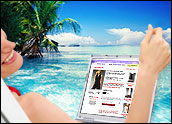 Buyers are naturally cautious when considering whether or not to make a purchase from unfamiliar merchants. Even if this anxiety is not justified, the effect on online retailers is often detrimental. Shopper anxiety creates a complicated challenge for online merchants, especially ones without national, trusted brands.
This phenomenon — a lack of consumer confidence — is called the "risk discount," which states that buyers who perceive risk when making a purchase will discount the price they are willing to pay.
The fact of the matter is that shoppers perceive risk in a transaction because they have limited knowledge of the seller's ability and willingness to perform. In other words, shoppers don't know as much about online merchants as they need to know in order to feel completely comfortable.
Fundamentally, an online merchant must reduce or even eliminate this perception of risk before, during and after the shopping experience. In an e-commerce environment, addressing uncertainty at every step of the buying process is essential in distinguishing trustworthy, reliable merchants.
The Perception of Risk
Most online merchants take steps to represent themselves in a reliable and trustworthy fashion. However, prominent media attention has been focused on the scams of a few fraudulent or financially distressed merchants. This media attention fuels the perception of risk that online shoppers have.
While data security is a threat, poor merchant performance consistently and overwhelmingly represents the greatest risk to online shoppers. In fact, the National Consumer League's 2006 Top 10 Internet Scam Trends reported that merchant non-performance — more specifically, non-delivery or misrepresentation of goods — made up 67 percent of all reported Internet scams as reported. Online shoppers' fears of being scammed, and merchant non-performance cost legitimate e-online retailers billions of dollars in lost sales annually.
The trustworthiness or perceived trustworthiness of a merchant now surpasses all other factors — even price — as the most important factor in a buyer's decision to make a purchase online.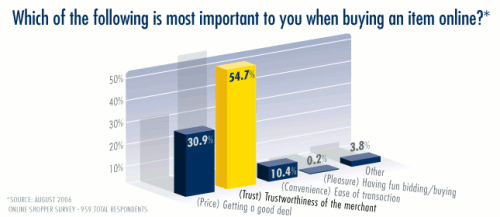 A great deal of evidence — ranging from academic research to anecdotal evidence and merchant experiences — supports this conclusion. A June 2005 report issued by the investment firm Piper Jaffray concluded that "respected branded sellers are pulling the large numbers of fraud-averse online shoppers away" from lesser-known sellers, and that remaining buyers "are applying what amounts to a 'fraud discount'" and are forcing prices lower. In an increasingly anxious online marketplace, success for Internet merchants depends more and more on how well they counter the risk discount.
The Risk Discount at Work
A rule of thumb in investing states that more risk requires a greater potential for return. The relationship between risk and return is the focus of a significant body of literature in the field of economics (Sharpe, Miller & Modigliani, etc.). Studies that examine the relationship between risk and pricing in online transactions have consistently found a similar relationship. If online shoppers feel a transaction poses a greater risk, they will compensate by decreasing the price they will pay.
By doing a simple search on any major comparison shopping engine, you can clearly see the risk discount at work. A recent search for the Sony Cyber-Shot DSC T30 Digital Camera on Shopzilla vividly illustrates the difference in average prices for well-known retailers and lesser-known merchants. In this example, the average price of the camera from a well-known online retailer was US$69 — or 17.6 percent — more than that of a lesser-know online merchant. The illustrates the fact that lesser-known retailers must sell their items at a significantly lower price just to compete with larger online brands.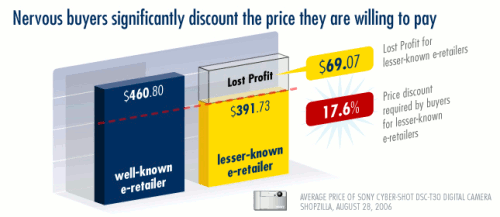 I call the inverse of the risk discount the "trust premium" — which states that buyers who discount the prices they are willing to pay in high-risk transactions will pay a premium for low-risk transactions. For this reason, we see why buyers are willing to pay well-known online retailers more for an identical product than they are willing to pay a lesser-known Internet merchant. For small to mid-sized online merchants, turning the risk discount into a trust premium has never been more critical to profitability.
How to Earn a Trust Premium
It's common knowledge that shoppers find security in well-known retail brands. Many consumers will shop — and buy — in the online stores of national brands but will not buy from smaller online retailers because they don't know enough about the retailer and they don't know what to expect. In other words, there is a higher level of uncertainty in transacting with weakly-branded merchants.
For most retailers, building or buying a national brand name is prohibitively expensive. Therefore, online retailers who seek to compete on the highest levels need an alternative strategy. One of the most effective strategies is to have an objective, trusted third-party institution endorse the retailer's business with both its own trusted brand as well as its financial resources.
The third party's endorsement and financial guarantees can enable online merchants to compete more effectively with established, well-branded, online retailers. Shoppers who have come to recognize and trust the third party's brand will know that they can trust the retailers who are permitted to use it.
This is the idea behind buySafe, the company I founded while earning my MBA at Wharton. I realized there was a need for a solution that clearly distinguishes the best online merchants — regardless of size and brand — and provides a purchase guarantee to help convert the most risk-averse shoppers to confident buyers. buySafe, along with other premier trust solutions like Hacker Safe and TRUSTe, benefits merchants because shoppers are more likely to buy when the feel comfortable and confident. In this way, small to mid-sized merchants can turn the risk discount into a trust premium.
---
Steven L. Woda
is founder and chairman of
buySafe
, a company that provides online merchants with an explicit third-party endorsement of their reliability and trustworthiness, backed by a bond guarantee, in an effort to ensure safe, reliable and virtually risk-free online shopping. Woda is the author of the e-commerce blog
buySafe, eCommerce, Trust and Safety
.
---