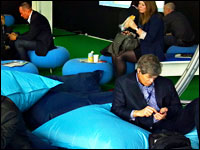 The recent and rapid evolution of mobile and client management requirements has caused considerable complexity and confusion.
Incomplete solutions and a lack of a clear pan-client strategy have hampered the move to broader mobile support at enterprises and mid-market companies alike. This state of muddled direction has put IT in a bind while frustrating users who are eager to gain greater productivity and flexibility in their work habits and device choice.
In this podcast, Tom Kendra, Dell Software's vice president and general manager for systems management, shares his insights on how to better prepare for a mobile-enablement future that quickly complements other IT imperatives such as cloud, Big Data and even more efficient data centers.
The discussion is moderated by Dana Gardner, principal analyst at Interarbor Solutions.
---

Listen to the podcast (38:20 minutes).
---
Here are some excerpts:
Tom Kendra: There is an enormous amount of conversation now in this mobility area, and it's moving very, very rapidly. This is an evolving space. There are a lot of moving parts, and hopefully, in the next few minutes, we'll be able to dive into some of those.
Dana Gardner: People have been dealing with a fast-moving client environment for decades. Things have always changed rapidly with the client. We went through the Web transition and client-server. We've seen all kinds of different ways of getting apps to devices. What's different about the mobile and BYOD challenges today?
Kendra: Our industry is characterized by speed and agility. Right now, the big drivers causing the acceleration can be put into three categories: the amount and type of data that's available; all the different ways and devices for accessing this data; as well as the evolving preferences and policies for dictating who, what and how data is shared.
For example, training videos, charts and graphs versus just text, and the ability to combine these assets and deliver them in a way that allows a front-line salesperson, a service desk staffer or anyone else in the corporate ecosystem to satisfy customer requests much more efficiently and rapidly.
The second area is the number of devices we need to support. You touched on this earlier. In yesterday's world — and yesterday was a very short time ago — mobility was all around the PC. Then, it was around a corporate-issued device, most likely a business phone. Now, all of a sudden, there are many, many, many more devices that corporations are issuing as well as devices people are bringing into their work environment at a rapid pace.
We've moved from laptops to smartphones that were corporate-issued to tablets. Soon, we'll get more and more wearables in the environment and machine-to-machine communications will become more prevalent. All of these essentially create unprecedented opportunities, yet also complicate the problem.
The third area that's driving change at a much higher velocity is the ever-evolving attitude about work and work-life balance. And, along with that, privacy. Employees want to use what they're comfortable using at work and they want to make sure their information and privacy rights are understood and protected. These three items are really driving the acceleration.
Gardner: And the response to this complexity so far, Tom, has been some suite, some mobile device management approaches, trying to have multiple paths to these devices and supporting multiple types of infrastructure behind that. Why have these not yet reached a point where enterprises are comfortable? Why have we not yet solved the problem of how to do this well?
Kendra: When you think about all the different requirements, you realize there are many ways to achieve the objectives. You might postulate that, in certain industries, there are regulatory requirements that somewhat dictate a solution. So a lot of organizations in those industries move down one path. In industries where you don't have quite the same regulatory environment, you might have more flexibility to choose yet another path.
The range of available options is wide, and many organizations have experimented with numerous approaches. Now we've gotten to the point where we have the unique opportunity — today and over the next couple of years — to think about how we consolidate these approaches into a more integrated, holistic mobility solution that elevates data security and mobile workforce productivity.
None of them are inherently good or bad. They all serve a purpose. We have to ask, "How do I preserve the uniqueness of what those different approaches offer, while bringing together the similarities?"
How can you take advantage of similarities, such as the definition of roles or which roles within the organization have access to what types of data? The commonalities may be contextual in the sense that I'm going to provide this kind of data access if you are in these kinds of locations on these kinds of devices. Those things we could probably pull together and manage in a more efficient way.
But we still want to give companies the flexibility to determine what it means to support different form factors, which means you need to understand the characteristics of a wearable device versus a smartphone or an iPad.
I also need to understand the different use cases that are most prevalent in my organization. If I'm a factory worker, for example, it may be better to have a wearable in the future rather than a tablet. In the medical field, however, tablets are probably preferred over wearables because of the need to enter, modify and view electronic medical records. So there are different tradeoffs, and we want to be able to support all of them.