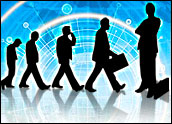 In many ways, the mobile device explosion and the cloud computing ramp-up reinforce and support each other.
Cloud services make mobile devices — like smartphone and tablets — more productive, while making users better connected to enterprise resources and work processes. On the other hand, mobile devices — with their ubiquitous, non-stop wireless access — make cloud-delivered applications, data and services more relevant and more instantly available anywhere.
The next BriefingsDirect podcast discussion then focuses on the rapid and massive shifts confronting enterprises as they adopt more mobile devices and broaden their uses of cloud services … in some kind of managed fashion, one would hope.
There are good reasons for doing these in tandem, with strategic coordination. By leveraging cloud and mobile, applications can be supported by a common, strategic, architectural and converged-infrastructure approach.
Furthermore, by making cloud-delivered applications and data context-aware, delivering enterprise applications to any device securely can be done at a reduced cost (a lot when compared to conventional applications infrastructure models). It therefore, over time, makes little sense to have unique stacks beneath each application for each application or device type.
So how do enterprises adjust to these mobile cloud, dynamic-duo requirements in the strategic and a proactive way? How can they leverage and extend their current applications or identify which ones to fold and retire?
It's clear that radical, not incremental, adjustment is in order to make sure that the cloud-mobile era is a gained opportunity and not a fatal or devastating misfire for IT operators — and business strategists alike.
Our next guest, Paul Evans, global lead for application transformation with HP Enterprise Business, helps explore the promises and perils of adjusting to the cloud-mobile shift. The interview is conducted by Dana Gardner, principal analyst at Interarbor Solutions. [Disclosure: HP is a sponsor of BriefingsDirect podcasts.]
---

Listen to the podcast (33:27 minutes).
---
Here are some excerpts:
Paul Evans: We have to go through a radical transformation now in terms of our applications. I don't use these words lightly. There are these new technologies, part of the megatrends that are affecting organizations.
In the technological world, we have the world of cloud, and we have the world of mobile. We cannot ignore them. People can't abdicate and say, "I'm not going to go do it." It's not going to be that way.
At the same time, the CIOs and senior stakeholders are looking outward and asking what are these new technologies, what could they do for me, how could they improve customer service, and what will my competition do?
They also look also over their shoulder and say, "I spend 70 percent of my IT budget keeping the applications I have today working. I probably don't have enough budget or resource to do both. So the question is, which one of these should I spend more of my time on?"
The answer is that you really can't afford not to spend time on either. So it's a balancing act between how I encompass the new and exploit it, and at the same time, what do I need to do with my existing applications.
Andy Grove, the former head of Intel said that this is a major inflection point.
This year people are predicting that if you count the amount of smartphones and tablets that will be shipped, i.e. bought, that it will be greater than the number of desktop, laptop and network PCs. So we're tending now toward an inflection point in the marketplace that says more people will interact using mobile devices than they will static devices.
That trend isn't just a blip for 2011. That continues as we accelerate, as people just get more comfortable with using that technology, as functionality improves, and security and manageability come under control.
We're at that point now. That's why we use this term radical transformation, because for the people that really want to exploit this, they're making their plans, they're drawing up their action lists of what they have to do, both at the front end with the mobile and cloud environment, but also with their legacy environment.
Although we see the world of cloud and mobile as very new-age, very sexy, and all the rest of it, at the end of the day, people have to sit down and deal with what the environments they have right now. They may not be so exciting. They may not be so new-age, but at the end of the day, they make products, count money, and run the organization as it is today. They are the legacy applications.
I often sit down with a customer who says, "We have to take stock. We have to make a plan. We're not going to do this one day at a time or a week at a time. We have to appreciate how we are going to exploit cloud.
What applications that we have in the back-end server environments are we going to bring forward to the cloud to service a mobile environment? What we are going to do about the use of mobile within our organization and what we are going to do about serving our customers better through mobile devices and the technologies that go with them?"
This is going to be pervasive. This is the way we're going to do things for the foreseeable future. Therefore, if we don't get it right now, we stand a risk of making decisions about platform types or architectures, or whatever it may be, that within six months, we're going to say that it wasn't such a good idea.
I meet so many customers now that are saying, "We've never been here before. We've never been with this volume of devices. We've never been through the fact that over half of our workforce now brings their own device with them into the office."
They're sending out policy documents that say, "you shall not do this," and it's totally ignored. The changing workforce has a totally different level of expectation, as it were, of what's possible, just in terms of the amount of transactions that are performed over the net or 20,000 applications downloads in a minute.
These are transactional rates in volumes that we've never seen before. Despite a lot of our previous experience, you just can't leave it and say, "It worked five years ago. It's going to work for the next five years." That's what our customers are dealing with today.
There are two critical questions have to get answered. One is the organizations that are going to move applications to a cloud environment are not going to move all of them. One of the questions we get all the time is, What percentage of my applications or products should I be moving to the cloud? And of course the answer is … It's not a percentage thing. It's the type of application.
It's still formative times, but in HP's view, clearly applications that probably are not embodying intellectual property would be a type of application that's well-served moving into the cloud. And, any form of application including servicing, providing a service across a wide population of users as well, especially those who are obviously in a mobile environment; applications that are productivity-centric.
You really want to drive the cost down as low as possible for any of these productivity applications. There's no sense in running on aging infrastructure where the costs are high. You really want to be getting the cost down, because if it's a productivity application, it doesn't differentiate you. And if it doesn't differentiate you, then why would you spend anything more than the minimal cost?
So put those productivity applications onto the lowest cost environment where you couldn't provision an infrastructure that has this elasticity that the cloud environment provides.