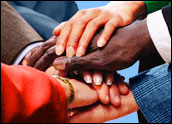 We have watched the wireless industry grow rapidly and change over the last decade. As we now know, competitors in the industry have suddenly been backed into a corner with limits to wireless data spectrum and growth. This is a growing problem and a real challenge that both Verizon Wireless and AT&T have to face. A change in thinking is required to solve this.
My Pick of the Week is Google, as it gets ready to enter the tablet market and compete with Apple's iPad, Amazon's Kindle Fire and Barnes & Noble's Nook Tablet.
Disturbing Trend
It all started a few short years ago with the iPhone. Then came Android. Suddenly customers were using more wireless data apps. All of a sudden, network usage, which had been mostly for voice, shifted to become mostly for wireless data.
Over the next few years, wireless data should account for 97 percent of traffic, with voice taking up a mere 3 percent.
The problem is that current limits on spectrum means there's not enough to carry that load.
The initial response of companies like AT&T has been to limit customers' wireless data access. This is not going over well. Not every carrier is pulling back, though. Sprint Nextel, C Spire Wireless and Virgin Mobile still offer unlimited wireless data plans.
This is a disturbing trend for the two largest players.
There are two possible solutions.
One was suggested Monday in a Wall Street Journal article about new technologies to better utilize the limited spectrum capacity. This is like putting new lights on highway entrance ramps to better manage the flow of traffic.
Both Verizon Wireless and AT&T have their backs against the wall. They have been using some of these new technologies to handle more wireless data traffic. So far, so good — however, this is only a partial and temporary solution.
We must see — and we will see — more of these kinds of advancements in technology.
The Second Solution
There is another way to solve the current capacity problems and keep Verizon Wireless and AT&T out of regulatory crosshairs: All wireless carriers should share all available spectrum.
That easy solution would solve this growing problem for both AT&T and Verizon — and, in fact, every other wireless carrier as well. All the carriers would pool their spectrum together and they would all buy access to the pool.
This would give every carrier equal access to the wide swath of spectrum. It would solve the capacity shortage problem, or at least delay its impact by many years.
The problem is that neither Verizon Wireless nor AT&T wants to do this. They should, however, for their own best interests.
Remember when Microsoft invested in Apple in the 1990s? Why did it do that? After all, Apple was its competitor.Microsoft did that for self-preservation. It knew that if Apple folded, the U.S. government would be all over Microsoft like flies on a juicy piece of fruit rotting in the sunshine.
So, in order to keep the regulators at bay, Microsoft kept breathing life into Apple.
The same thing applies now with Verizon Wireless and AT&T. If they win this battle over spectrum and other carriers lose customers and even fold, then suddenly they will be in the crosshairs of the U.S. government.
I know they don't want that.
Keep Competition Alive
Throttling doesn't work. Customers hate it. That is the wrong path to take.
AT&T leaned that the hard way. I heard Clark Howard say AT&T lost 17 million customers when it recently implemented throttling.
AT&T and Verizon have to start thinking in new and different ways. So guys, take your heads out of the dark areas of your torso and look at the larger industry issues and work to solve them.
After all, doing so is in your best interests.
To keep the critical balance in the industry, it is in Verizon's and AT&T's best interests to make sure they don't put everyone else out of business.
Just a thought.