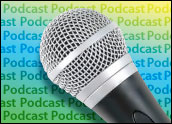 The Belgian newspaper group Copiepresse, which won a court ruling last year against Google for linking to its stories without permission, is now asking a court to award it up to US$77 million in damages.
It is also asking the court to force Google to publish the ruling against its linking practice in a conspicuous place on one of its Web sites for at least 20 days. Google has already stopped linking to the newspapers' content through its Google News site and reached an agreement last year that would allow some content to be accessible through the main search engine.
Apparently Google was sending a flood of unwanted traffic to the Belgian publication, and it prefers to keep its news close to its chest — that's all we can figure.
---

Listen to the podcast (10:39 minutes).
---
Tricky Android
Google gave developers at its I/O Conference a good tease when it trotted out a working prototype of a mobile phone based on its Android software stack.
The phone, whose make and model Google didn't reveal, had some pretty cool software on it, including a version of Google Maps that changes its view based on the direction you — and the phone — are facing.
The trick is that the device has a built-in compass and an accelerometer so it knows when it's moving and which way it's going. Phones built on the Linux-based platform will start appearing in the second half of this year — just in time to compete with the 3G iPhone.
Free Money
Microsoft is mounting its most aggressive effort yet to challenge Google in search and search advertising: a plan to give cash rebates to consumers who use its Live Search and end up making online purchases.
The company is essentially sharing advertising revenue with end users — providing a direct incentive to use Microsoft's search tool instead of Googling. When he unveiled the program, Chairman Bill Gates suggested it might go down in history as a key turning point in the evolution of search.
Since the cashback program's launch, some 700 merchants have enrolled, with 10 million products now eligible for rebates. Among the online retailers taking part are eBay, Overstock.com and Sears. The software giant also unveiled Live Search Farecast, which will offer the same cash-back incentive for users who find and book travel through the search tool.
Too Little Information?
Years ago, in the months before Windows Vista was loosed upon the world, it seemed Microsoft couldn't say enough about its upcoming operating system — all the neat bits and pieces it would have, all the great things you could expect from it and so on.
Then the beast was unleashed, and the company caught a lot of flack for delivering below expectations. So this time it's playing it cool with Windows 7, its next OS, which will likely come out in about a year and a half.
For the most part, mum's been the word, but Microsoft decided to open up a bit at the D: All Things Digital Conference and demonstrate a few things Windows 7 will have to offer.
So what should you expect from its next OS? Well, multitouch functionality, for one. That's something the company has demonstrated before with its tabletop Surface computer. That can only mean one thing: More fingerpainting. Yes, Microsoft is still using its touchscreen demo time to show us how to paint pretty pictures.
Directions on Microsoft analyst Michael Cherry said all the touchy business looks interesting, but there just aren't enough details about the technology and what applications will be used with it to get him excited just yet.
Going It Alone
Borders officially ended its 7-year relationship with Amazon and rolled out a solo e-commerce site with some unique features.
As a way to create more of a brick-and-mortar experience for its online customers, Borders has introduced the Magic Shelf, a feature that lets you view as many as 20 shelves of book, movie and music titles personalized according to your preferences.
Borders is pushing the cross-channel concept, allowing customers to search Borders-dot-com for items they can pick up at their local store. While they're there, they can use a kiosk to place orders for shipment either to the store or their home. They can also access their online wish lists in the store.
Mobile Madness
Never mind all the BlackBerries and iPhones running around, and pay no mind to the Androids around the corner.
Microsoft says its mobile operating system, Windows Mobile, is primed for a sales boom. The company's ambitious plans call for at least 50 percent growth in Windows Mobile sales in each of the next two years.
That projection is based on the strength of the smartphone market, which has been growing rapidly. Microsoft anticipates selling 20 million Windows Mobile licenses this fiscal year — nearly double the 11 million it sold last year.
Symbian, which is owned by Nokia, has about half of the market for smartphone software, and Apple is making inroads, but Linux is expected to gobble up a larger share as both the LiMo Foundation and Android platforms gain traction.
Amazon Hedges
To stream or to download, that is the question. Plenty of movie distributors are jumping onto the video on-demand wagon train — they're just not using the same types of vehicles.
Some are letting you download movies and keep them on your computer; others are streaming video, meaning you're watching content as it comes through your broadband connection.
Amazon is going both ways. In addition to its existing Unbox download service, it will launch a new streaming service in the coming weeks, according to CEO Jeff Bezos.
So is this going to cut iTunes off at the knees? Apple doesn't have too much to fear yet, according to analyst Phil Leigh, who said, "I don't think it's going to move the needle on iTunes — certainly the Amazon music store hasn't."
Bad Stuff, Maynard
A merger between Microsoft and Yahoo would stifle innovation and eliminate competition in key business areas, Google cofounder Larry Page told a Washington think tank recently.
To be precise, he said the combination would result in a company that controls "90 percent of communications." It's not exactly clear how Page arrived at that figure, but it sure sounds ominous.
I guess the point he wanted to make was that it would be big and nasty. He went on say that Microsoft "has a history of doing bad stuff." Apparently, Page has been taking public speaking lessons from Mark Zuckerberg, the famously inarticulate founder of Facebook.
Bad stuff, indeed.
Dwindling Options
If Google's take on a possible merger seems, let's say, unrefined, Yahoo's position seems downright murky. As its options slide through its fingers like loose sand, the company seems less and less sure of what it wants — or doesn't.
Its latest move was to postpone its July 3 shareholders' meeting to later in the month, perhaps buying more time to mull the possibility of a deal with Microsoft that doesn't involve being bought out completely.
Investor Carl lcahn has made clear his intention to install a new board when the meeting takes place.
No Thanks
Facebook CEO Mark Zuckerberg is less equivocal on the prospect of a Microsoft merger.
Rumors have been flying around that Microsoft wanted to buy Facebook — possibly at a price tag in the neighborhood of $15 billion — but at the All Things Digital conference, Zuckerberg made it plain he wouldn't be interested.
That would not be the best way to fulfill the social network's mission of connecting people with one another, he said. Asked whether Facebook's investors could sell the firm without his approval, Zuckerberg said, "I don't think so."
Like I said, the guy's got a way with words.
Just a Phone
How about we take a minute to talk about a cell phone that's nothing like the iPhone?
It doesn't have a camera or a music player or a touchscreen. It doesn't even have a screen. It's just a phone.
The HOP1800 from Hop-On is designed for people who want a mobile phone but adamantly refuse to deal with anything remotely gratuitous, like text messages. It might also appeal to anyone who wants a cheap backup handset that you can stick your SIM card into.
The real clincher is the price — it's just 10 bucks, meaning it's 40 times less painful to drop into a swimming pool than a new iPhone.
Just Criminal
For Rockstar Games, Grand Theft Auto IV was a huge hit, and it's resulted in sales of several hundred million dollars. And for Michael Hollick, it resulted in a lucrative payday of around a hundred thousand.
That's nothing to sneeze at, even for 15 months of work, but Hollick, who provided the voice of the game's main character, thinks he should be getting more.
Because of the way contracts are structured for performers in new media such as video games, Hollick and others like him receive no ongoing royalties or residuals — just the flat rate they were originally paid.
And that, to Hollick, is a crime.
Also in this week's podcast: Adobe floats CS4 betas; security firm gets tired of waiting; Sony joins two-way cable initiative.