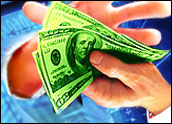 The Politics of Taxing E-Commerce, Part 1
Indiana has become a hotbed in the discussion about e-commerce taxes.
On Nov. 3, the biggest retail property owner in the U.S., Indianapolis-based Simon Property Group, filed a lawsuit against the State of Indiana. Simon Property claims that Indiana's 2007 tax exemption for Amazon amounts to an unconstitutional subsidy, a subsidy which threatens local businesses and brick and mortar outlets.
In the second of this two-part podcast, we talk with Indiana Statehouse reporter Maureen Hayden to see what's going on in Indiana and how it might affect the national debate on e-commerce taxes.
---

Listen to the podcast (15:33 minutes).
---
The E-Commerce TimesIn part one we talked with David Cardinal, an author for Extremetech.com, and right now in Part II we're going to talk with Maureen Hayden, who is a statehouse reporter in Indiana for CNHI newspapers. And we are excited to talk with Maureen because Indiana has actually turned into something of a hotbed for this issue of e-commerce taxes. Maureen, thanks a lot for taking the time to chat, really appreciate it.
Maureen Hayden: Thank you, David. It's great to be with you.
ECT: First off let me ask you about this lawsuit that