The current Global Delivery Model (GDM) is a mature and highly successful mechanism that has been empowering numerous organizations worldwide to implement value-based, cost-effective IT solutions over the past two decades.
The GDM involves a geographically spread team of client and vendor personnel who are equipped with necessary skills and technologies, and brought together by unified processes and communication mechanisms to deliver complex IT solutions. A standard set of business models also has evolved to manage the commercial aspects of the GDM.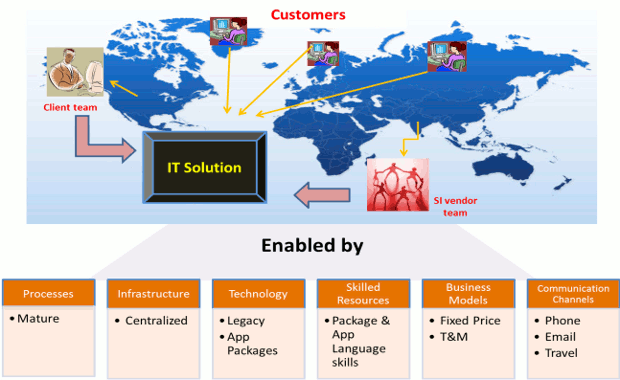 Enterprise 2.0 and Its Challenges
With the advent of Web 2.0, enterprises are witnessing a paradigm shift in the way interactions are taking place between various stakeholders — employees, consumers, vendors etc. Web 2.0 features such as wikis, blogs, social bookmarks, various social media tools and networking sites are providing opportunities for everyone within and outside an organization to contribute to the creation of an enormous amount of content. These collaborative features are paving the way for the emergence of Enterprise 2.0.
Apart from implementing standard ERP and CRM systems, a leading U.S. financial institution, for example, has created interactive blogs aimed specifically at the student community in a bid to educate and influence them toward use of its financial products and services.
Examples of other such initiatives include the creation of a virtual world that allows young adults to connect with their peers and participate in banking-related games, and a blog designed to keep employees informed about a recent merger and allow interactive discussions among them and with the organization.
Existing business processes are made even more effective by the use of social media tools. Sales teams are able to collaborate in real-time on customer proposals; marketing teams have access to extensive market intelligence from user opinions scattered everywhere on the Web; customer support teams are able to address customer concerns via Twitter, wikis and blogs, and are facilitating a customer-to-customer support ecosystem as well.
GDM for Enterprise 2.0
Ramping up for Enterprise 2.0 requires redefining and reorganizing IT systems that help deliver business processes. Changes are expected in the scope and constitution of the various facets of the GDM — processes, resources and their skill sets, technology, infrastructure, communication channels and business models.
Even more, the GDM will need to handle a greater geographic spread of stakeholders involved in the delivery and use of these IT systems. The current global delivery model needs to go far beyond traditional modes of delivery: email; file uploads et al for deliverables; a waterfall model of project management for project delivery; client engagement via various/complex hierarchies in the SI (system integrator) resource plan; talent hiring via traditional modes of lengthy scrutiny; long interview schedules; and a host of others.
Consider a simple comparison of E 1.0 and E 2.0 via the "BICOPTER" (Business models, Infrastructure, COmmunication channels, Processes, TEchnology and Resources) parameters.
Every Business model needs to be sustained, and to be successful, good Infrastructure is key. Hence, these form the two pillars of the model. The COmmunication channels, Processes, Technology and Resources are the main drivers that help the organization to "fly" and reach greater heights. These six parameters help form a base for delivery.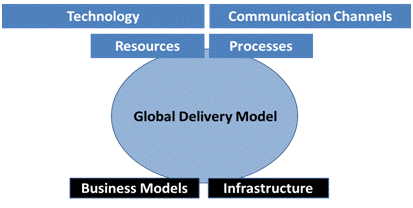 Following is a simple comparison of today's function current enterprise functions with those likely to manifest in years to come.
Enterprise 1.0 (Present)
Enterprise 2.0 (Future) Hierarchical People network Strict line of control People align to take control Compete is the way to go Collaborate is the way to compete Functional expertise Cross-functional knowledge via sharing Experience speaks People take initiative to innovate, collaborate Task is accomplished Results are regular outcomes Inflexible Flexible Technology driven user experiences User driven technology innovations Taxonomy Folksonomy Closed standards Open standards I speak you listen Let us discuss, listen and get a result Communication Collaborative Intelligence Diverse systems forming silos Convergence is the key Closed borders for teams Boundaries are blurred Control Agility Give Distribute, learn and share
The Enterprise 2.0 Global Delivery Model Transformation, Part 2