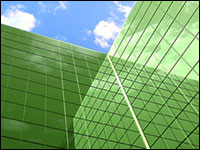 It's impossible to factor the implications of cloud computing without examining the context of all the other major business and technology trends in play today.
To gauge the potential business benefits — and threats — from cloud, we also need to examine the confluence of these developments and how together they change businesses and business ecosystems.
The implications of companies collaborating more efficiently over extended information networks is appropriately then the theme for the upcoming Ariba LIVE Conference in Las Vegas, which kicks off on April 10.
To help better understand the complex drivers of the next wave of business productivity, BriefingsDirect interviewed Ariba Chief Marketing Officer Tim Minahan in advance of the conference. The networked economy comes as a consequence, says Minahan, of the major business and IT trends of the day — those being cloud computing, mobile, social and big data.
To appreciate the full impact of the networked economy, we need to recognize how previously internal processes are now becoming increasingly externalized. Cloud computing, the force behind a lot of this extended business process innovation, has let loose the imagination of businesses to consider how to do commerce anew.
The good news is that shaking up the status quo is enabling massive efficiencies with more active market benefits, shared by more participants, as they cooperate and collaborate in entirely new ways.
As a leader in cloud-based collaborative commerce, Ariba has a unique observation of where the networked economy is headed. To gain a better idea of how business networks will drive the future of commerce, Minahan recently sat down with BriefingsDirect's Dana Gardner, principal analyst at Interarbor Solutions.
---

Listen to the podcast (17:59 minutes).
---
Here are some excerpts:
Tim Minahan: We're experiencing another major shift in IT-generated productivity.
The forces that you mentioned — mobility and collaboration through communities or social networks — are conspiring with cloud computing.
As a result, the next wave of productivity is going to allow companies to begin to extend those processes, extend that information, and extend alignment of their processes with their external partners, whether they be customers that they want to collaborate with more closely, or suppliers that they want to align with better and drive efficiencies with, or other partners, financial partners, logistics partners, etc., that take part in a process that the company needs to collaborate around.
We think this convergence of companies collaborating more efficiently over extended information networks is one that's going to drive this next wave of productivity.
Think about it. It's here today. We still may be in our infancy, but you've got to think about what's happening today. Think about it in your personal lives. That's probably the best example. The magic of Facebook is not in its clean interface or in its news feed feature. The magic of Facebook is that it has created the world's largest network of personal connections.
Similarly, the beauty of Amazon.com is not that it offers the best prices on books. It's that it offers the world's largest and most convenient network for personal shopping.
This is not just a consumer phenomenon. It's an enterprise one. More and more businesses are looking beyond the four walls of the enterprise to extend their processes and systems, to connect and collaborate more efficiently with their customers, with their suppliers, and other trading partners, whether they're across the street or around the world.
Dana Gardner: What's fascinating to me about that, Tim, is we had Metcalfe's Law, where the more participants on a network, the more valuable it becomes. We certainly see that with Facebook. But what's happening in addition is that the amount of activity that these folks do, the commerce, their actions, their priorities, is all data that could be captured and analyzed, not just data individually, but collectively.
So we're not just getting value from the network on participation. We're getting insights that filters back to how we can conduct business. How important is this notion of captured analytics along the way in this networked environment?
Minahan: It's absolutely critical. We'll go back to those models. If you look at any of the personal networks that we rely on everyday, whether it's Facebook, Twitter, Google, Netflix, or Amazon, they have three things in common.
Number one, as you stated earlier, they're in the cloud. These are cloud-based applications. You don't need to install hardware or custom-configure it. You don't need to install or manage or maintain software. It is all accessible through a web browser, whether you are in Peoria or Paris.
The second component, as we just stated, is that all of these are ultimately networks. They are large communities of individuals, and oftentimes companies, that are digitally connected.
Think about Amazon. You don't think about connecting to each individual merchant. Whether you want to buy a book or a blender, the merchants are all connected for you. You don't think about settling out with Visa or MasterCard and how to integrate to them. They're all connected in there for you.
And to your last part, you have cloud-based technology, communities, and then capabilities. That's where the intelligence in the community comes in.
Again, think about Amazon. You want to buy something and you get expert opinions on "folks who have bought this product have also bought this product." That's community intelligence that helps you make a more informed decision.
Secondly, you get peer opinions, other participants in the community that rate the product that you are considering buying. That gives you an additional level of trust in the purchase decision you're about to make.
These are the types of things that are only available in a network-based model. These are the types of things that are also available to businesses in a business network-type model.
Gardner: Well, we've certainly seen a behavioral shift in people's adoption, and even enthusiasm for these sorts of activities. We're seeing it in their personal lives. When we now apply this to enterprises, to B2B activities, to commerce, we can find that the processes are uniquely actionable and automated in the cloud, even more so than in an enterprise system of record, which could be fairly brittle.
But we're also seeing — I think it's fairly unique — is the ability to adjust on the fly. So we have automation and governance, but we also have exception management. We have a confluence of actionable automation that's governed and managed with insight, but we also can adjust these things on the go. I think that's something also that's fairly new to this networked environment.
Minahan: Absolutely. The power of a network using Metcalfe's Law is that each new member delivers incremental value to every existing member. Part of that is it does allow you as a business to be far more responsive. It allows you to make more informed decisions, as we talked about. You're not just making decisions based on your own input, but you're making decisions based on relationship and transaction history, as well as community opinion of a particular trading partner.
In a networked environment, you can quickly find new peers or partners that can help you execute a process. You can get informed community decision on how that partner or peer has performed in the past, so you can make a educated decision as to when and how to find alternative sources of supply, for example, or find new employees or potential employees that you could be matched with through this network.
Those are the types of things that a network model allows you to do, to make more informed decisions, to be much more responsive, and ultimately, have far greater transparency and visibility into the process.