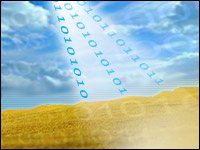 We've been hearing a lot about the cloud, but what is it exactly? Going forward, I will be writing about different companies and ideas and the cloud, but here I'll focus on this new area and how it will transform every company in every industry over the next several years.
We are starting to see companies like Apple, Amazon and Barnes & Noble enter this cloud-space for their customers. This helps them lock in their customer base and grow. But the cloud has many sides. It also helps companies better manage internal business operations and more.
On the consumer side, there are enormous opportunities to lead in this new cloud space. Set the new rules going forward. There are also great opportunities to follow. However, there are also challenges for companies that don't transform, or that try but get it wrong.
My Pick of the Week topic is how the mHealth App market will grow over the next five years.
The Cloud Is Still Forming
I have had countless lunches and meetings with executives of companies wanting to learn more about the cloud. They see the Wave coming and want to know how to ride it to success going forward. They want to know how it will change their business and what they can do to keep up on the consumer side, the business customer side and the internal side.
First of all, take a deep breath. It is important to realize we are just in the first inning of this new cloud game. We have been talking about it for years, but only recently have we seen companies dip their toes in the water, some more aggressively than others.
The cloud will transform the entire business environment for consumers, investors and the companies themselves. The impact will be similar to the original PC revolution. Remember when back in the 1980s every store had to call in the daily sales figures? Nothing was computerized.
Today, every cash register is actually a computer terminal, so every store can be monitored continually and restocked automatically.
Also, remember how Apple transformed the music industry with iTunes and the iPod?
We should expect the same thing with the cloud. How do devices communicate with the cloud? Wireless, of course. Networks like Verizon Wireless, AT&T Mobility, Sprint Nextel, C Spire, and more are the highways for this next revolution.
Customers connect with the cloud through their wireless and wireline Internet connections with companies like Verizon, AT&T, Sprint Nextel, C Spire, Comcast, Time Warner, Cox and so on.
There are many benefits to the companies and the customers. It is a perfect way to lock customers into a company, increasing sales and market share.
We all prefer companies depending on good quality service, low prices and innovation to hang onto customers, but the cloud is the path we are on. It will transform the entire business marketplace, so it is vital we get comfortable and either lead or follow going forward.
The rules of this new industry view are still being written. Companies need to decide whether they want to play a role in writing the rules, or just want to play by the rules set up by other companies.
We used to store our data on our hard drives. Most of us still do; however, we can now store it in the cloud. Some people love this idea, because they can access their data anytime on a variety of devices that can tap into their cloud account.
Others don't like it because the private information and files, which we used to store on devices, is now stored on a network. The fear is these networks can be broken into and information stolen. We hear about this all the time in the news.
This is the transition period. As time passes, we'll get as used to this risk as we are to banking and paying our bills with our online accounts instead of checks.
Who Has a Cloud Today?
Apple has the iCloud. It allows customers to store all their purchases, data and computer files on Apple's Web-based computer system instead of on their devices.
Customers who buy music or books can access them on any of their Apple devices linked to the iCloud account. That means an Apple Macbook, iPod, iPhone, iPad and whatever comes next will have access to all of a customer's cloud purchases. This also means every time a customer saves a file, it gets saved to the cloud space, and not to the customer's machine.
The good news is customers can access their data on any Apple machine. The bad news is it is vulnerable to attack and theft. Also, information cannot be accessed without a connection to the Web, so using it while traveling, for example, can be very difficult today.
These difficulties will be solved as we move further into this cloud space. Apple gives customers the choice to store information on their machines or in the cloud, allowing for migration over the next several years.
Whether customers like it or not, this is a brilliant marketing direction for a company to follow. This will be the way we store and use information in the future. We are just in the very early stages of this cloud revolution.
Amazon is taking the same approach with its Kindle book reading devices and tablet computers. All the purchases are kept in the cloud. Customers can download anything to their device and read it even when they don't have a connection to the Net. Or they can read it on a laptop, or a smartphone, etc.
In fact, Amazon is going to be introducing a new smartphone later this year. If successful, it will help Amazon become stickier, like Apple, and it will build its marketing strength with customers. Whether this is successful or not depends on how well Amazon markets it.
Barnes & Noble is another company taking the same cloud approach with its Nook book reading device. I don't think it is planning a smartphone release, which would leave it in a weaker position than Amazon, but the B&N.com Nook is a great device, just like the Kindle, and customers can read books on the Nook or on a laptop or smartphone also.
These are three good companies with different approaches to the cloud and how deeply they are diving in. Which do you think will be most and least successful going forward? I have my opinions. We'll have to watch and see.
At CES in Las Vegas a couple weeks ago, the automotive industry also showed how it will play a significant role in this cloud and app space. Companies like GM, Lexus, Mercedes, BMW and others have been playing around with this cloud opportunity, and the results have been paying off.
Customers who would normally hang onto their vehicles for a longer time will trade up to get the new tech. There was little reason before, but when they can get better technology and more technology and have it tied to the cloud, it gives these auto companies great results.
The next step is allowing customers to upgrade and update existing automotive technology. That will play a role going forward, so customers don't have to buy a new vehicle just to get the new technology.
That will keep these cars hot to trot. However, as with Apple's iPhone and iPad, some new features require customers to purchase the next model.
Health Apps are also playing a larger role as the mHealth and eHealth industry emerges. Large and small companies are trying new ways to reach out to customers and patients to empower them to have more control over their own healthcare.
Banking and credit card industries are moving into this space. Customers can deposit checks using a smartphone in their living room instead of driving to their bank. They can get access to their accounts using an increasing number of apps provided by banks. Many of these are coming from smaller banks, but increasingly we are seeing larger banks dip their toes in the water.
Travel is another industry letting customers access travel information and records from the Web-based cloud.
Industry after industry is dipping its toes in this new cloud water. Just like the Web in the 1990s, companies and customers are trying things and getting comfortable with the opportunities and the challenges.
Right now, it's the blind leading the blind. Mistakes will be made, but now is the time when these mistakes are expected and excused. So dive in and experiment, and get used to the new water.
Over the next several years, this cloud is going to expand to and transform every industry to allow customers to save all their information. To help companies attract sticky customers so they can grow. To help companies offer internal cloud services for employees to teach and communicate internally and externally.
Be aware. The cloud is an exciting area that is not just a flash in the pan. It is the early stages of the next big revolution that will affect and impact every company, every industry and every customer.
Getting it right — or wrong — will tell whether a company will be a leader, a follower or a loser going forward. This is a serious transformational trend going forward. Drop me a line now and then and let me know of companies that are doing well and others that are missing in this new area. Much more to come. health app market, which will grow to US$392 million over the next five years. That's a 70 percent increase, according to Frost & Sullivan.
As good as that sounds, I think it will be quite a bit more than that once we crack the code on this new opportunity. Sectors that grow in the wireless arena tend to blow past expectations once they get through the hard part.
Companies in the wireless healthcare arena have been trying to crack the code for several years. Qualcomm is a big supporter in this area. It stands to capitalize on the opportunity when it takes off. There are others as well.
Of course, we shouldn't count our eggs before they're hatched. Traditionally, big companies don't always know how to strike the right chord. Remember, the wireless data sector was trying for many years. Companies like AT&T, Verizon and Sprint Nextel tried again and again, but just could not jump-start this sector.
Then, five years ago Apple jumped in with the first iPhone and Google with Android. That is what changed the smartphone market. Before that, companies like RIM were leading. Now its BlackBerry is struggling as the Wave passes it by.
At CES in Las Vegas a couple weeks ago, mobile app developers announced they would create the Applications Developers Alliance. The Digital Media Association plays a lead role in this alliance. The participants will be involved with testing, working with app legislation, cloud services and more. This will be helpful, but it alone will not crack the code.
Once that happens, we can expect the mHealth app market to explode and rapidly grow. The question remains, when will that happen? Can't say for sure, but we are on the cusp. You can taste it, can't you?