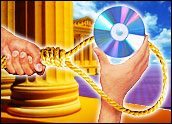 Desperate times call for desperate measures. When you add a desperate industry to the mix, you get this past crazy week.
First, a major record label, Universal, said it would do the obvious — and obviously smart — thing: lower prices.
CD prices, after all, were supposed to plunge once they became the standard way of delivering music. But as anyone who's been buying music in CD format since 1986 knows, if prices have done anything, they've inched surreptitiously higher.
Universal's price cut makes so much sense that it's almost a surprise the label thought of it. Industry heavyweights have seemed incapable of making a smart move at almost every juncture in their war with digital music pirates. The price-cutting decision is so logical — narrow the cost gap, make piracy less appealing from an economic perspective — that it took several years to happen.
Why Stop There?
But this is a war, and the record labels aren't about to fight on a single front. They can only lower prices so far, after all, so the dangled carrot of cheaper CDs is being backed up with the sharp, pointy, jagged stick of legal action.
Yes, a bunch of people answered the doorbell this week to find a process server waiting on the other side — no doubt making them wish, for the first time in their lives, for an annoying traveling salesman instead. The labels, which had rattled more sabers than both President Bushes combined, had finally followed through on their threats.
It wasn't exactly shock and awe. After all, 261 lawsuits is just a drop in the bucket. But it's a strategic foray, one scripted to include some of the city's largest media markets — New York, Boston, Chicago and San Francisco — and a seemingly carefully chosen cross-section of the population, including a Yale professor to go along with some college students.
Chill Out
The potential fallout from the lawsuits is staggering, with the Recording Industry Association of America (RIAA) claims amounting to millions of dollars in total — millions of dollars the defendants almost certainly don't have. One family has reportedly already settled its case, and the RIAA Web site has been flooded with traffic, at least some of it from people scrambling to get in on the association's new amnesty program.
So much for the idea that the music industry couldn't sue everyone. It seems determined to at least make a symbolic effort, which is all that really matters.
But none of this covers up the bottom line. The music industry is stalled in the breakdown lane. Technology zoomed past a while ago, and all the industry could manage to do was throw a lasso around it and try to drag itself along, face-first, on the pavement. Lawsuits aren't going to fix the problem. In fact, the money that will be spent on lawyers would be far better spent making more music available online for legitimate download.
The music industry isn't healing itself. It's hurting its own customers, the very hands that feed it. Any short-term benefits will wear off long before the sting goes away.