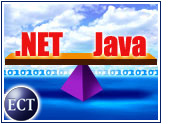 In a move to undercut Microsoft, Sun Microsystems on Wednesday announced a free software initiative that the company hopes will give it an edge in the battle toset standards for the next-generation Internet.
Sun is battling against Microsoft's .NET initiative by giving away an application server that runs on both Windows and Linux systems.
Aberdeen Group research director Dana Gardner told the E-Commerce Times that this is a strong move against Microsoft.
"The differentiation is no longer in the run time or the application server," said Gardner. "The differentiation is in the tools, frameworks and the associated services and servers."
End to End
Sun is betting that it is going to differentiate itself with a more complete portfolio of products than its J2EE (Java 2 Enterprise Edition) competitors. Indeed, few vendors are able to provide an end-to-end solution, but Sun is getting closer to that goal.
"By being so bold with application server pricing, Sun is flexing its muscle in terms of having a full solution," said Gardner. "Sun also has a willingness to risk going up against other vendors' components."
The Playing Field
While Sun is generally fighting against Microsoft's .NET, Microsoft is not the only competitor in the Web services space. Linux and Unix players like IBM, Hewlett-Packard, Oracle and BEA Systems are all in the race.
But Sun has a running start in this round of the Web services war with Java, alanguage that developers can use to write programs that run on many platforms,including Windows. Windows programs, in contrast, run only on Windows.
Gardner said Sun is using Java because it is a strong object-oriented language that has wide acceptance. But, he added, there are many different flavors ofimplementation, and it is the approach within a standardized Java environmentthat will ultimately determine which company generates the most revenue.
Too Little, Too Late?
Forrester Research analyst Joshua Walker told the E-Commerce Times that Sun's decision to give away its application server gives its customers the best of both worlds. But Sun still faces obstacles in the Web services marathon.
"Sun is facing an uphill battle here," said Walker. "They might have done this alittle late in the game."
Analysts said that opportunity knocked on Sun's door a couple of years ago when thecompany acquired application servers that could have kept IBM and BEAfrom getting a perceived lead in the market. Sun missed it, said Walker.
Service Station
Of course, software is only a small part of Sun's business. And analysts doubtthat distributing free application servers will have a major impact on revenue.Instead, analysts suggest, focusing on improving services should take priority.
"Sun should take a very hard look at improving services so it can get betterincremental revenue implementing its solutions, rather than just collectinglicense fees for software," said Walker.