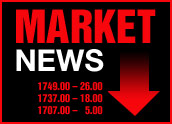 Word that the Federal Reserve is increasingly worried about the prospects of inflation sent stocks tumbling today, with the Dow narrowly avoiding a triple-digit loss and the Nasdaq giving up more than 2 percent.
The concern, found in the recently released minutes of the Fed's December meeting, when it made its fifth interest rate increase during 2004, was not shared by all members of the fiscal policy making board. However, some members said the weak U.S. dollar, higher energy costs and other factors could help spark larger price jumps.
Inflation Concerns
The news and some continued profit taking was enough to send stocks to the second straight losing day of 2005. The Dow was off 98.65 points, or 0.92 percent, to 10,630.78. The Nasdaq was off 44.29 points, or 2.06 percent, to 2,107.86. The S&P 500 closed at 1,188.05, down 14.03 points, or 1.17 percent.
The Fed, which convenes next on February 1, would undoubtedly move aggressively to squelch inflation by raising interest rates more quickly. That, in turn, could dent corporate profits, which have been largely responsible for the strong run of stocks during the latter part of 2004. In fact, the minutes show some Fed members worrying about the amount of speculation in capital markets.
The latest economic news, meanwhile, suggested that the economy is getting stronger. The Commerce Department said orders placed at U.S. factories in November were up 1.2 percent, the largest increase in four months and well ahead of the 0.8 percent forecast.
Oil Prices Up
Oil prices moved sharply higher today as well on fears that new violence in Iraq was the start of a sustained attack meant to disrupt upcoming elections there. Crude futures moved up US$1.79 per barrel, or 4 percent, on the session, to $43.91.
The move also came as Saudi Arabia confirmed it had begun to reduce its output in accordance with a recent OPEC agreement meant to provide support to falling oil prices.
The inflation comments from the Fed did help the dollar gain back more ground against both the yen and the euro as the prospect of higher interest rates made the Greenback more attractive.