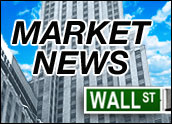 Stocks were under pressure most of the trading session today, but managed to claw back to the flat line as a surge in oil prices eased and some individual stocks benefited from some good news.
Volume was low once again with just one full trading day left in the week. Markets are closed on Thursday for Thanksgiving and close early on Friday.
At the closing bell, only the Dow was in positive territory, having gained 3.18 points, or 0.03 percent, to 10,492.60 The Nasdaq lost 0.91 points, or 0.04 percent to finish at 2,0284 and the S&P 500 shed 0.30 points, or 0.03 percent, to end at 1,176.94.
The Dow was down as much as 50 points during the session as oil prices roared back above the US$50 level before settling back. Crude futures trading in New York reached $50.25 before closing at $48.94, a gain of 30 cents on the day. After reaching record high trading price levels in October, oil has closed below $50 a barrel for more than 20 straight days.
Economic Appetizers
The only piece of hard economic data available for investors to chew on was a report from the National Association of Realtors saying that existing home sales fell slightly in October. The association said continued low interest rates helped sustain sales, which fell just 0.1 percent, less than anticipated.
Individual stocks, however, gave investors plenty to feast upon.
Intel hurt the tech sector after an analyst downgrade led to a 3 percent drop in the stock price.
Time Warner, the parent company of America Online, was up more than 2 percent after published reports suggested the company was on the verge of a settlement with the Securities and Exchange Commission over longstanding accounting issues.
Falling Dollar
Outside of tech, McDonald's shares were one of the day's best performers, rising 2.5 percent after CEO Charlie Bell said he would step down due to health concerns.
Overseas, the U.S. dollar continued to struggle. The Euro hit a record high against the greenback, hitting $1.31 for the first time since the euro was adopted in 1999. The dollar did better against the yen, moving higher by 0.3 percent.