I've covered or worked in companies that have been led by iconic CEOs for most of my life, including Disney, IBM, Microsoft and Apple. While it is too early this cycle to be sure of what will happen to Apple, each of the other firms went through a painful transition after the departure of its iconic CEO.
After Steve Jobs was fired years ago, Apple nearly failed — until he came back to lead what has become the most successful company of the last decade. Ironically, it's likely that Steve Jobs' own practices in fixing Apple back then could be the best guidance for ensuring Apple's continued success — and the success of any other company so closely tied to its CEO.
I'll close with one of the handiest products for students, reporters, and anyone who needs to take notes currently in the market: the Livescribe Pen.
IBM, Microsoft, Disney Struggles
With Disney, IBM and Microsoft, the iconic leaders — Thomas Watson Jr. for IBM, Walt Disney for Disney, and Bill Gates for Microsoft — built their companies around their own unique skill sets.
Thomas Watson Jr. led with diplomacy and esprit de corps to create a company that was highly regimented, uniquely caring, and very much like a well-run government when IBM peaked during his term. Bill Gates was a visionary with a results focus, and he created a Microsoft that matched his vision, though it ultimately expanded beyond his scope. Walt Disney, arguably the closest to Steve Jobs, was a micromanager and a visionary — and with the company bearing his name, he was vastly bigger than life to his employees and the firm's customers.
After Watson Jr. left IBM, there was a slow erosion of the practices he had put in place, and this resulted in IBM's near collapse in the late 1980s. Microsoft simply seemed to hit a wall. Its influence on the market declined with the loss of Bill's vision, and while financially sound, it clearly isn't the company it once was. Disney also lost Walt's vision. Although Walt Disney World was partially finished when Walt left, it never became the city of the future he envisioned, and advancements in both movies and parks stalled to the point where Disney had to buy Pixar.
Disney, IBM, Apple Lessons
Disney and IBM are both very powerful companies in their own right today — they just bear little resemblance to the companies they were when they initially peaked. What had to happen was they had to be remade into firms that put more emphasis on their current CEOs' skill sets.
Robert Iger, the current CEO at Disney, is more of a TV executive. Under his leadership, you can certainly see that Disney's TV properties have generally flourished, while movies and parks simply haven't been his area of focus and expertise. Sam Palmisano, the current CEO at IBM, had a heavy enterprise background and took IBM away from the consumer markets it had been playing with — mostly unsuccessfully. IBM under Palmisano is smaller than it once was, but it's very focused and providing solid returns.
However, the best clue as to a lesson actually came from Steve Jobs when he returned to a foundering Apple. Back then, Apple was so complex that I doubt anyone, including Jobs, could have done anything but shut its doors. What Jobs understood — and what virtually everyone who has ever come in right after an iconic CEO didn't get — was that a successful firm is designed around the strengths of its leadership. For Jobs, who is a micromanager and a perfectionist, that meant it had to be simple. He didn't have the breadth to cover anything but a simple product line with the focus and concentration his management style needed.
So he cut the company sharply — eliminating lines, the entire business division, and all of the cloning support, which, to someone as focused on perfection as he was, simply seemed stupid. The end result was a very lean company that Jobs could wrap his arms around. Even in its success, Apple has remained relatively simple — only adding critical capabilities and lines where Jobs wanted to make a statement.
He leaves an elegantly simple company, but one that is used to being driven by Jobs' unique set of skills. Unless Apple is altered to address the unique skillset of the CEO who follows Jobs, it will likely go into a period of flat growth or decline.
Wrapping Up: Steve Jobs' Real Legacy
I agree with most that no one can be Steve Jobs, and much like it was with IBM, Microsoft, and Disney, anyone who tries to simply replace Jobs will probably fail. It may take months or even years, but the best of Apple will be in the history books.
However, a leader who learns from Steve Jobs — and is competent — will restructure Apple to best meet a new set of skills, and then the next Apple could become even more powerful than this one. In fact, that is probably the only way someone coming after Jobs could exceed his success — not by emulating Jobs, but by creating a better mix of the new CEO's skills and a restructured Apple.
Were Steve Jobs any other person, I'd say his coming back to Apple is impossible. Given it is Jobs, I'll just say it is unlikely. But the future of Apple will be dependent on Steve Jobs' replacement learning one lesson from him: that success depends on knowing one's own strengths and weaknesses. Apple's next leader must craft the new Apple to best take advantage of the former and mitigate the latter. That is the lasting multibillion dollar lesson from Steve Jobs, and the one I'll probably most remember him for.
Product of the Week: Livescribe Echo Pen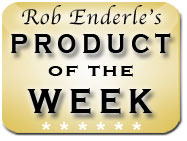 I've been going down a list of products that simply turned out to be surprisingly useful over the last several years, and one that floats to the top is the Livescribe Echo Smartpen. The pen has a built in recorder and a camera that allows you to connect the notes you're taking to what is actually being said. To review what was said, you simply tap on the words you were writing at the time.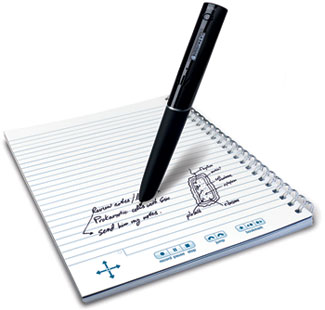 Livescribe Echo Smartpen
Ever had someone dispute your notes on a meeting? Trust me, hearing a tape of what was actually said ends arguments pretty fast. Have handwriting like mine that is almost (OK generally) illegible? Tap on the area and revisit the moment.
Looking at your notes from a lecture and not able to make sense of them? Tap on the words in question and hear the professor walk you through what he was saying. Granted, you may still be confused, but at least you can then curse out the professor and not your notes, which is particularly handy if you were taking notes for a friend who was out surfing. Not that that ever happened to me, mind you…
The Livescribe pen used to be rather pricy and bulky, but the company redesigned it so it is smaller — and at US$99.95, one heck of a lot more affordable. For anyone who takes a lot of notes — from attorneys, to executives, to students — this is one of those tools that you may find you can't live without.
You do need special paper, which you may need to order in bulk, but that is a small price to pay for notes that talk to you. This is perhaps one of the most useful products ever released into the market, and so the Livescribe Echo is a natural for my product of the week.
---
Rob Enderle
is a TechNewsWorld columnist and the principal analyst for the
Enderle Group
, a consultancy that focuses on personal technology products and trends.